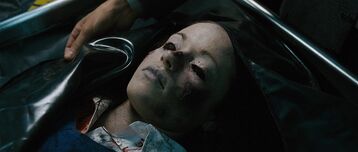 Leela Savasta (19?? - )
Black Christmas (2006) [Clair Crosby]: Stabbed in the eye with a pen by Dean Friss, after he puts a plastic bag over her head. Her body is shown later on when Jessica Harmon discovers her. (I'm not sure which version of the movie the screen capture is from, but Leela's body is never shown in the US version. For some reason, the different regional versions of this movie have many differences from each other. There are often major differences during the actual death scenes. I'm not sure why this is; it doesn't appear to be due to censorship.) (Thanks to TravellingMan, Robert, Domikate, Steve, Cody, Andre, and Lucky)
Smallville: Tomb (2006) [Gretchen Winters]: Killed (off-screen) by Damon Johnson years before the episode takes place. Her ghosts appears after lightning strikes the Talon where she's at (hidden behind a wall) and possesses Allison Mack. Her corpse is seen later on when Tom Welling opens the wall and finds her corpse (which, by this point, has decomposed to a skeleton). Later on, when Damon holds Allison and Erica Durance hostage, her spirit leaves Allison and possesses Damon, forcing him to kill himself, then leaving into the afterlife.
Stargate: Atlantis (2008) "Whispers" [Captain Alicia Vega]: Killed (off-screen) by mutated villagers. She is seen being pulled away into the mist and her body is shown moments later. Exact cause of death is unkown.
Community content is available under
CC-BY-SA
unless otherwise noted.