(Adding categories)

 

(One intermediate revision by one other user not shown)
Line 13:
Line 13:
 

[[Category:Deaths in CSI: NY]]

 

[[Category:Deaths in CSI: NY]]

 

[[Category:CSI: NY Cast Members]]

 

[[Category:CSI: NY Cast Members]]

 
+

[[Category:Death scenes by chest trauma]]

 
+

[[Category:Death scenes by hook]]

 
+

[[Category:Flashback death scenes]]
---
Latest revision as of 12:14, 2 April 2019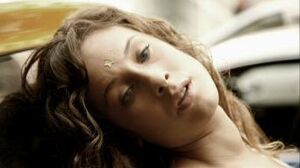 Leah Rachel (1985 - )
CSI: NY: Happily Never After (2008) [Leslie Wright]: Stabbed in the chest with a hook by Kevin G. Schmidt, who then throws her body out of a window (landing on a school bus). Her body is shown afterwards as the CSI's investigate and her death is shown in a flashback.
Community content is available under
CC-BY-SA
unless otherwise noted.