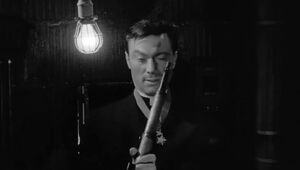 Laurence Harvey (1928 - 1973)
Romeo And Juliet (1954) [Romeo]: Stabs himself in the chest in the tomb where the body of the apparently dead Susan Shentall is lying. (Thanks to Brian)
The Good Die Young (1954) [Miles Ravenscourt]: Fatally shot by Richard Basehart as they struggle in a phone booth. Laurence's last act is to shoot Richard in the back. (Thanks to Brian)
The Alamo (1960) [Col. William Travis]: Shot in the chest at close range by a Mexican soldier (for accuracy, Col. Travis was found shot only in the forehead). (Thanks to Brian)
The Long And The Short And The Tall (Jungle Fighters) (1961) [Pte Bamforth]: Crushed to death in a rockfall when his wild firing at the Japanese hits the ammunition boxes and they blow up causing the canyon wall to collapse on him. (Thanks to Brian)
The Outrage (1964) [The Husband]: Stabbed in the chest; his death is shown in four conflicting versions of the story told by different people: (1) Stabbed by Paul Newman at the end of a fight. (2) Stabbed by Claire Bloom after he blames her for her own rape. (3) Commits suicide by stabbing himself in shame over failing to prevent Claire's rape. (4) Accidentally falls onto the knife during a fight with Paul. (See also Masayuki Mori in Rashomon.)
A Dandy in Aspic (1968) [Eberlin]: Shot to death in a shoot-out with Tom Courtenay.
Alfred Hitchcock Presents: Arthur (1959) [Arthur Williams]: Devoured by the chickens on his farm, some time after the final scene; his death is mentioned in Alfred Hitchcock's narration at the end of the episode (as was standard for episodes where the villain goes unpunished in the actual story).
Father of Domino Harvey (bounty hunter).
Community content is available under
CC-BY-SA
unless otherwise noted.