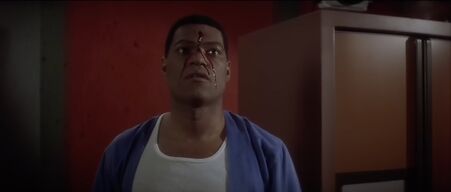 Laurence Fishburne (1961 -)
Deaths in Film
[
]
Apocalypse Now (1979) [Gunner's Mate 3rd Class Tyrone 'Mr. Clean' Miller]: Shot when the natives fire on the boat, he then dies from his wound.
Death Wish II (1982) [Cutter, the Mugger]: Shot to death with a shot to the head exploding his boombox in the process by Charles Bronson in the park at night. 

Quicksilver

(1986)

[Voodoo]: Hit by a car driven by Rudy Ramos while riding his bicycle as Kevin Bacon looks on in shock. 
Band of the Hand (1986) [Cream]: Shot to death in a shoot-out with Stephen Lang.
King of New York (1990) [Jimmy Jump]: Shot in the head by David Caruso, after having been shot in the stomach by David a few minutes earlier; after Wesley Snipes dies from Laurence's shots, David finishes Laurence off rather than take him into custody.
Bad Company (1995) [Nelson Crowe]: Shot in the head during a shoot-out with Ellen Barkin in his apartment. 
Othello (1995) [Othello]: Commits suicide by stabbing himself. 
Event Horizon (1997) [Captain Miller]: Commits suicide/sacrifices himself by blowing up part of the spaceship while he's inside during a struggle with Sam Neill. 
Osmosis Jones (2001; animated) [Thrax]: Playing the role of a virus, he is disintegrated in a veil of alcohol after Chris Rock throws him off

Elena Franklin

's eyelash.
The Death and Life of Bobby Z (2007) [Tad Gruzsa]: Shot to death as Paul Walker twists the riflemen. 
Fantastic Four: Rise of the Silver Surfer (2007) [Silver Surfer]: Voicing an Alien, sacrifice himself to destroy Galactus, however in a scene set during the credits, its revealed he survived as his eyes are seen opening and his Surfboard flies to him. (See also Doug Jones who plays the Surfer.)
Tortured (Video, 2008) [Archie Green]: Shot to death when Cole Hauser shoots his gun through the already deceased James Cromwell's body after Fishburne has shot and killed Cromwell.
Armored (2009) [Baines]: Killed in an explosion, along with Jean Reno, when Columbus Short booby traps the metal case of money with a bomb. We later see his body on fire.
Predators (2010) [Ronald Noland]: Shot after being cornered in the subterranean tunnels by one of the predators causing him to explode.
The Colony (2013) [Briggs]: Sacrifices himself by blowing himself up with dynamite to save Kevin Zegers from the monsters while on the bridge.
Standoff (2016) [Sade]: Stabbed in the neck repeatedly by Thomas Jane. Laurence in turn shoots Thomas in return but it`s unfatal. Laurence dies from blood loss after talking with

Ella Ballentine

.
Passengers (2016) [Chief Gus Mancuso]: Dies of organ failure with Chris Pratt and Jennifer Lawrence by his side and his body appears again as Chris sends Lawrence's body to space.
Running with the Devil (2019) [The Man]: Shot to death by Nicolas Cage so he doesn't suffer as he burns at the stake.
The Ice Road (2021) [Jim Goldenrod]: Drowns (off-screen) in the icy water after accidentally getting his leg tangled in the metal truck cable (breaking his leg in the process). Laurence orders Amber Midthunder to cut him loose, he sinks to the bottom while Midthunder looks on in shock.
TV Deaths
[
]
Video Game Deaths
[
]
The Matrix Online (2005) [Morpheus]: Shot to death by a fly-based Assassin.
Notable Connections
[
]
Father of Langston Fishburne and Montana Fishburne
Ex-Mr. Hajno O. Moss
Ex-Mr. Gina Torres
Gallery
[
]