Wiki Targeted (Entertainment)
Play Sound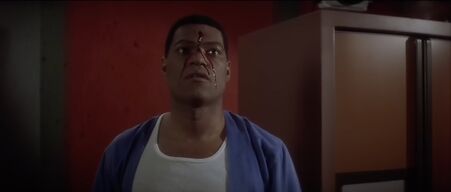 Laurence Fishburne (1961 -)
Apocalypse Now (1979) [Gunner's Mate 3rd Class Tyrone 'Mr. Clean' Miller]: Shot when the natives fire on the boat, he then dies from his wound.
King of New York (1990) [Jimmy Jump]: Shot in the head by David Caruso, after having been shot in the stomach by David a few minutes earlier; after Wesley Snipes dies from Laurence's shots, David finishes Laurence off rather than take him into custody.
Event Horizon (1997) [Captain Miller]: Commits suicide/sacrifices himself by blowing up part of the spaceship while he's inside during a struggle with Sam Neill. 
Fantastic Four: Rise of the Silver Surfer (2007) [Silver Surfer]: Voicing an Alien, sacrifice himself to destroy Galactus, however in a scene set during the credits, its revealed he survived as his eyes are seen opening and his Surfboard flies to him. (See also Doug Jones who plays the Surfer.)
Tortured (Video, 2008) [Archie Green]: Shot to death when Cole Hauser shoots his gun through the already deceased James Cromwell's body after Fishburne has shot and killed Cromwell.
The Colony (2013) [Briggs]: Sacrifices himself by blowing himself up with dynamite to save Kevin Zegers from the monsters while on the bridge.
The Matrix Online (2005) [Morpheus]: Shot to death by a fly-based Assassin.
Father of Langston Fishburne and Montana Fishburne
Ex-Mr. Hajno O. Moss
Ex-Mr. Gina Torres
Community content is available under
CC-BY-SA
unless otherwise noted.