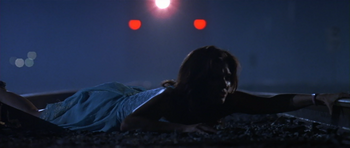 Laura Harring (1964 - )
a.k.a. Laura Elena Harring, or Countess von Bismarck 
Miss USA of 1985 
Dead Women in Lingerie (1991) [Marcia]: Garroted (off-screen) by Dennis Christopher. The scene fades to black and into the opening credits as Laura screams; her body is shown afterwards (from a distance) in a dumpster while the police investigate. (Thanks to Eric)
Final Payback (1999) [Gina Carrillo]: Shot in the back with a sniper rifle by Sherrie Rose while Laura is embracing Richard Grieco in her apartment.
Mulholland Dr. (2001) [Rita/Camilla Rhodes]: Killed (off-screen) by Mark Pellegrino; her body is never shown and her death is never mentioned verbally, but a key lying on Naomi Watts' coffee table is supposed to be a signal that the job has been done. (This movie is highly open to interpretation, but it seems to be the case that she's been killed.)
The Punisher (2004) [Livia Saint]: Run over by a train after John Travolta throws her over a bridge and onto the railroad tracks (after John has been tricked into thinking she's cheating on him). (Thanks to Robert)
The King (2005) [Twyla Sandow]: Shot in the chest (off-screen) by Gael García Bernal; her body is shown afterwards when Gael lays her daughter (Pell James) beside her before burning down the house. (Thanks to ND)
Nancy Drew (2007) [Dehlia Draycott]: Killed (off-screen) by Barry Bostwick, 25 years before the story begins; she only appears in film footage and in Emma Roberts' imagination. (Thanks to ND)
Inside (2016) [Madeleine]: Drowns after falling into a pool while attempting to attack Rachel Nichols with a scalpel.
Silk Stalkings: Family Values [Paula Houston]: Strangled (off screen).
Ex-Mrs. Carl-Eduard von Bismarck-Schoenhausen (Count von Bismarck) (she retains the Countess title despite their divorce)
Community content is available under
CC-BY-SA
unless otherwise noted.