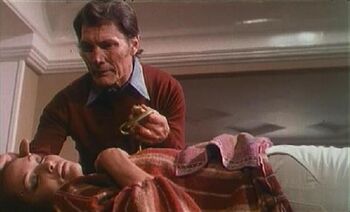 Laura Gemser (1950 - )
a.k.a. Moira Chen
Black Cobra Woman (Eva nera; Black Cobra; Emanuelle Goes Japanese; Erotic Eva; Hot Pants) (1976) [Eva]: Bitten by a green mamba while she's dancing with the snake in front of Jack Palance. (Thanks to Andrea)
Murder Obsession (Follia omicida; L'Ossessione che uccide; Delirium; Fear; Murder Syndrome) (1980) [Beryl]: Stabbed in the stomach by Anita Strindberg in the woods, after Anita knocks Stefano Patrizi unconscious. Laura's body is shown afterwards when Stefano wakes up next to her, and the murder itself is shown in a flashback later on. (Nudity alert: Full frontal)
Caligula: The Untold Story (Caligola: La storia ma raccontata; Emperor Caligula: The Garden of Taboo) (1981) [Miriam]: Stabbed to death by David Brandon while he's in a delirious trance. (Thanks to Johan)
Invaders of the Lost Gold (Safari senza ritorno; Horror Safari) (1982) [Maria]: Drowned when she gets a cramp while swimming; her body is shown again afterwards when Woody Strode discovers her washed up on the shore. It's later revealed that her death was caused by Edmund Purdom, though it's not clearly explained how he did this. (Thanks to Johan and Andrea)
Interzone (1987) [Panasonic's Brother's Wife]: Stabbed in the stomach with a sword by John Armstead, as her husband, actor uncredited, looks on in shock. Shown in a flashback sequence when her brother, Kiro Wehara, tells his story to Bruce Abbott and Beatrice Ring. Laura was pregnant at the time of her death, consequently, her unborn child also died.
None known.
Community content is available under
CC-BY-SA
unless otherwise noted.