Larry Vaira (1950 - 2007)
Born on August 25, 1950 in Finleyville, Pennsylvania. The handsome, dark brown haired, blue eyed Larry Vaira wasn't really an actor, but he was hired by George A. Romero to play Bikers in his movies, Dawn of the Dead (1978) as Mousey, The Tommy-Gun Biker (riding in sidecar) (where in real life he had also worked as the Biker wrangler and kept The Pagans Motorcycle Club and his friends who only played the roles of bikers and biker chicks in line during their scenes in the movie) and Knightriders (1981) as one of the Bikers at the Renaissance Faire. Because he looked like a Biker type of person. He did ride and own a motorcycle, but he was mostly a construction worker.
He also acted in two plays at Stage 62 in Pittsburgh, Pennsylvania: firstly, as a waiter in "Cabaret" by Joe Masteroff, lyrics by Fred Ebb, music by John Kander in 1972. He and his wife, who was his high school sweetheart, Jeanette Lansel Vaira (who played a Biker Chick in Dawn of the Dead (1978) and an Extra in Knightriders (1981)) acted in them together. Jeanette was one of The Kit Kat Girls. Secondly, "Bells Are Ringing" by Betty Comden and Adolph Green, lyrics by Betty Comden and Adolph Green, music by Jule Styne in 1974. Larry and Jeanette were The Dancers in the play. Jeanette was also the Choreographer's Assistant.
He and his Family would celebrate Hawaiian Luaus together with Jim Hollowood & The Royal Hawaiians. And during those times, Larry learned how to twirl and eat fire. He made for a great warrior while they performed Tahitian dances in grass skirts.
His other hobbies included motorcycle racing and stunts and skydiving.
He died of an unexpected brain aneurysm on Friday April 27, 2007 aged only 56. He left behind his 2 adult children Mylo, Monica and his wife.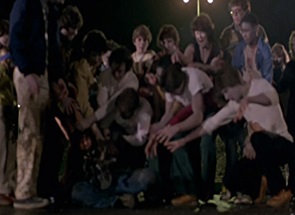 Film Deaths
Edit
Community content is available under
CC-BY-SA
unless otherwise noted.