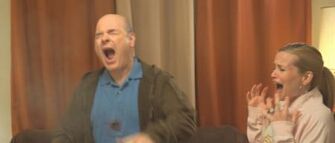 Larry Miller (1953 - )
Mad Dog Time (a.k.a. Trigger Happy) (1996) [Nicholas Falco]: Killed in a fight/shootout with mobsters (I haven't seen all of this but he isn't among the survivors) 
Buzz Lightyear of Star Command: The Adventure Begins (2000; animated) [XR]: Voicing a Robot, he his blown to bits and curse and then later rebuilt by the LGMs (Patrick Warburton). He is blown to pieces by Agent Z (Diedrich Bader) when he shot a Ball into one of his cannons. He is later rebuilt again by the LGMs.
The Six Wives of Henry Lefay (My Dad's Six Wives) (2009) [Lipschutz]: Drowns (off-screen) when he falls into the ocean due to his lifejacket failing while parasailing, after swapping jackets with Tim Allen so Larry's body is confused for his; his death is revealed when Tim appears at his own funeral to explain the situation. 
Carnival of Souls (1998) [Louis Seagram]: Killed in a car crash along with Bobbie Phillips(initially it appears both survived but it's later shown that they both died, with Larry being sent to hell at the end). (I haven't seen all of this but I know the ending)
Medium: Joe Day Afternoon (2007) [Dylan Kravitz]: Shot repeatedly in the chest and stomach by Adam Goldberg, after Larry rushes Adam to force him to use all his ammo (in order to protect the other hostages). (Thanks to PortsGuy and ND)
Community content is available under
CC-BY-SA
unless otherwise noted.