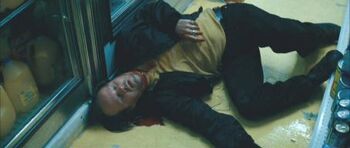 Larry Fessenden (1963 - )
Director/producer
Habit (Video, 1982) [Sam]: Bitten to death by a vampire and falls to his death through the window.
Habit (1997) [Sam]: Bitten in the throat by a vampire and falls to his death (off-camera) as he tried to escape through the window.
Amc Movie Network (Short, 1998) [The Man]: Murdered (off-screen).
The Paperboy (Short, 1998) [The Man]: Died of a head trauma by a clock to throw the window by a woman.
The Roost (2005) [Tow Truck Driver]: Killed by bats.
The Last Winter (2006) [Charles Foster]: Burned to death in a plane crash.
Automatons (2006) [Enemy Guard]: Accidentally impaled through the mouth when he throw a robot to kill.
Mullberry Street (2006) [Man behind the gate]: Devoured by zombies.
I Sell the Dead (2008) [Willie Grimes]: Decapitated with a guillotine (off-camera); he later returns as a zombie.
Bitter Feast (2010) [William Coley]: Hit in the back with an axe.
Vanishing on 7th Street (2010) [Bike Messenger]: Killed by shadows.
You're Next (2011) [Erik Harson]: Hacked to death with an machette (off-camera) by L.C. Holt; the scene cuts away just as L.C. strikes. His body is shown again later on when Sharni Vinson discovers him.
Jug Face (2013) [Sustin]: Torn to shreds (off-screen) by the supernatural force from the pit, when it strikes out indiscriminately after being denied its proper sacrifice.
Riding Shotgun (Short, 2013) [Countryma]: Eaten by a zombie.
Pod (2015) [Smith]: Killed (off-screen) by the creature after he discovered a body in the living room.
The Stakelander (2016) [Biggs]: Bitten to death by a vampire.
Girlfriend's Day (2017) [Taft]: Bleeds out in Bob Odenkirk's arms after being stabbed off-screen.
Psychopaths (2017) [Starkweather]: Electrocuted
The Ranger (2018) [Uncle Pete]: Accidentally shot by his niece (Jete Laurence), causing him to fall over a cliff. His death is seen in Chloe Levine's flashback.
The Dead Don't Die (2019) [Danny Perkins]: Eaten alive by zombies. He later appears as a zombie and is shot in the head by Bill Murray.
Community content is available under
CC-BY-SA
unless otherwise noted.