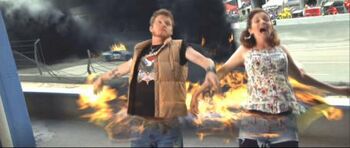 Lara Grice (1971 - )
Film Deaths
Edit
Because of Winn-Dixie (2005) [Opal's Mom]: Her death wasn't mentioned by anyone. She was last seen in a taxi being driven away by an unknown driver. We learn this when Jeff Daniels tells AnnaSophia Robb this story about why Lara hated being the Preacher's wife. So her death is debatable.
The Reaping (2007) [Isabelle]: Burned to death (along with everyone else in the cult) by supernatural forces when the final plague kills all the first-borns in the town. (I couldn't spot Lara in all the carnage once the final plague starts, but it's established that everyone in the town is a first-born child.)
The Final Destination (2009) [Cynthia Daniels, Racist's Wife]: Bisected at the waist by flying debris at the racetrack after a major crash. (Shown in Bobby Campo's premonition, in which Justin Welborn is also killed; her actual death occurs off-screen when the premonition comes true, though Justin is not killed because he left the racetrack. Her death is confirmed when Justin blames Mykelti Williamson for it.) (Thanks to Joshua)
Maskerade (2011) [Lydia Beaumont]: Stabbed in stomach with an acute branch by John Edward Lee while trying to hang her.
TV Deaths
Edit
Community content is available under
CC-BY-SA
unless otherwise noted.