Wiki Targeted (Entertainment)
Play Sound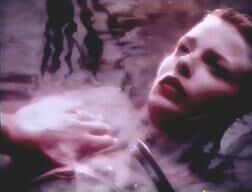 Kylie Minogue (1968 - )
Singer
Cut (2000) [Hilary Jacobs]: Stabbed in her back and slashed to death after having her tongue cut out (off-screen) with garden shears by Frank Roberts in her film-editing room. Her body is shown lying face-down afterwards on a couch as Molly Ringwald and Geoff Revell discover her.
Holy Motors (2012) [Eva Grace (Jean)]: Commits suicide by jumping off a building (off-screen); her body is shown when Denis Lavant discovers her. (Due to the ambiguous nature of the film, it is unclear if her death is permanent or if she even truly died.)
San Andreas (2015) [Susan Riddick]: Falls to her death (off-screen) when the portion of the building she's in breaks off and collapses during a massive earthquake; we see Kylie run through a door, but when Carla Gugino follows her through it, the other side has fallen away.
Doctor Who: Voyage of the Damned (2007) [Astrid Peth]: Falls to her death after knocking George Costigan into the ship's engine. David Tennant later attempts to bring her back through a teleportation matrix, but the restoration is only partially successful and she soon dissipates into atoms. (Thanks to Kerry)
Doctor Who: Turn Left (2008) [Astrid Peth]: When a divergent timeline is created where David Tennant and Catherine Tate never meet, Kylie is killed (off-screen), along with the other passengers of the Titanic, either by the Heavenly Hosts, or when the ship crashes into Buckingham Palace. (Kylie doesn't appear in this episode, but the crash, and the resulting destruction of London, is witnessed by Catherine from the other side of the country.)
"Where the Wild Roses Grow" (1995) (Nick Cave and the Bad Seeds music video): Hit on the head with a rock (off-screen) by Nick Cave on a river bank; her body is shown lying in the shallow water throughout the video (occasionally "coming back to life" to sing a verse). (Thanks to The Midnight Club)
Sister of Dannii Minogue
Community content is available under
CC-BY-SA
unless otherwise noted.