Wiki Targeted (Entertainment)
Play Sound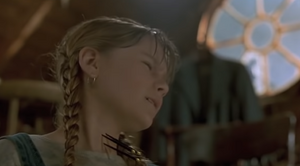 Kirsten Dunst (1982 - )
Interview with the Vampire (1994) [Claudia]: Executed by Stephen Rea and the rest of the vampire theater company by being locked at the bottom of a well; when the sun rises over the well, Kirsten is slowly burned to ashes while Domiziana Giordano tries in vain to shield her. Their charred remains are later discovered when Brad Pitt arrives too late to save them. (Thanks to Mandy, Faustass, Vincent and Bob)
Mother Night (1996) [Resi Noth]: Commits suicide by taking a cyanide tablet (in the film, Kirsten portrays Resi as a girl, at the time of her suicide, she's an adult played by Sheryl Lee).
The Virgin Suicides (1999) [Lux Lisbon]: Commits suicide (off-screen) by carbon monoxide poisoning when she turns on the car engine in the closed garage; her body (just her arm sticking out of the window) is shown afterwards when police and paramedics open the garage. (Thanks to Mandy, Tal, Daniel, Germboygel, Cathal, Nadine and Kate)
The Day After Tomorrow (2004) [Girl]: Possibly killed (off-screen) when the storm hits New York, as she is last seen moments before the surge attacks the city. Given the situation, she would not have enough time to escape from the city, and even if she survived the surge, it is possible for her to freeze to death later when New York has become frozen. However, consider many survivors have been discovered in New York at the end of the movie, it is also possible for her to survived. (Kirsten's role is an uncredited cameo, and she only appears in the background)
All Good Things (2010) [Katie Marks]: Likely killed (off-screen) by her husband (Ryan Gosling); Kirsten disappears in mysterious circumstances in 1982. A later scene where Frank Langella looks at something unseen inside the trunk of Ryan's car heavily implies he is looking at her remains and that Ryan killed her. (Kirsten's role is based on the unsolved case of Kathleen McCormack.)
Melancholia (2011) [Justine]: Killed, (beside her sister, father and nephew) along with everybody else on Earth, when the planet Melancholia collides with Earth. (Thanks to Tommy)
The Two Faces of January (2014) [Colette MacFarland]: Falls to her death when she slips back off some stone stairs as she is fighting with her husband (Viggo Mortensen). Her body is later seen as he holds her (who then makes it look like Oscar Isaac killed her) then again when Oscar discovers her. (Thanks to Tommy)
The Devil's Arithmetic (1999 TV) [Hannah Stern]: Executed in the gas chamber of a concentration camp, after she sacrifices herself by taking Brittany Murphy's place; afterwards, she wakes up alive and well in her own time period. (Thanks to Charles)
Portlandia: Sharing Fiances (2014) [Kim]: Falls out a window to her death while being chased by the ghosts of Fred Armisen and Carrie Brownstein; her ghost then appears and starts talking to Fred & Carrie. (Played for Comedic Effect)
Fiancée of Jesse Plemons
Community content is available under
CC-BY-SA
unless otherwise noted.