Wiki Targeted (Entertainment)
Play Sound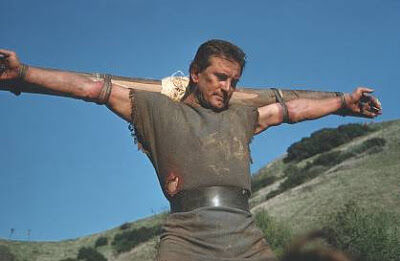 Kirk Douglas (1916 - 2020)
Film Deaths
[
]
Out of the Past (Build My Gallows High) (1947) [Whit Sterling]: Shot to death (off-screen) by Jane Greer in his office; his body is shown lying on the floor afterwards when Robert Mitchum discovers him. (Thanks to Fred and Kelly)
I Walk Alone (1948) [Noll 'Dink' Turner]: Shot to death by a policeman while being arrested when he breaks free from them and starts shooting at Burt Lancaster. (Thanks to Harry)
Champion (1949) [Michael 'Midge' Kelly]: Fatally injured during a boxing match, he dies in his dressing room shortly afterwards.
Ace in the Hole (The Big Carnival; The Human Interest Story) (1951) [Chuck Tatum]: Stabbed in the stomach with scissors by Jan Sterling; he dies later on after staggering into the newsroom. (Thanks to Mac, Fred, and Johannes)
Detective Story (1951) [Detective Jim McLeod]: Shot in the stomach by Joseph Wiseman after Joseph grabs another cop's gun in the police station and Kirk tries to face him down; he dies shortly afterwards while talking to his colleagues. (Thanks to Mac and Fred)
Lust for Life (1956) [Vincent Van Gogh]: Commits suicide by shooting himself in the chest or stomach by a tree. He later dies of his wound with his brother (James Donald) at his bedside.
The Vikings (1958) [Einar]: Stabbed to death in a fight with his brother (Tony Curtis), he dies as he shouts to the heavens and his body is later seen being prepared on a funeral prier. (Thanks to Fred)
Spartacus (1960) [Spartacus]: Executed by crucifixion; he dies after Jean Simmons shows him his son and says goodbye to him. (Historically, he was never executed but died during the battle).
The Last Sunset (1961) [Brendan O'Malley]: Shot to death showdown with Rock Hudson (unknowing that his gun wasn't loaded). (Thanks to Fred)
The List of Adrian Messenger (1963) [George Brougham]: Impaled on a piece of farm equipment (a trap he had set intending to kill George C. Scott) after being thrown from a horse. Kirk had been in disguise, but unmasks himself as he dies. (Thanks to Mac and Constantine)
In Harm's Way (1965) [Captain Paul Eddington]: Shot in the head when Japanese fighters open fire on his plane.
The Way West (1967) [Senator William J. Tadlock]: Falls off of a cliff when

Katherine Justice

cuts the rope lowering him down (in revenge for Kirk's hanging of Michael Witney). (Thanks to Stephen)
The Brotherhood (1968) [Frank Ginetta]: Shot to death (at his own request) by his brother (Alex Cord). (Thanks to Fred)
There Was a Crooked Man... (1970) [Paris Pittman Jr.]: Bitten by a rattlesnake when he reaches into his money bag. (Thanks to Fred)
A Gunfight (1971) [Will Tenneray]: Shot to death in a gunfight with Johnny Cash. (The movie depicts two possible outcomes to the fight; one with Johnny killing Kirk and one with Kirk killing Johnny.) (Thanks to Fred and Brian)
Jacqueline Susann's Once Is Not Enough (1975) [Mike Wayne]: Killed in a plane crash (off-screen), along with Alexis Smith; we learn of their deaths in a TV news report that his daughter (Deborah Raffin) sees. (Thanks to Fred)
The Chosen (Holocaust 2000) (1977) [Robert Caine] There are two different versions of the ending. For the international version, Kirk survives the film. The US version features an ending where Kirk straps explosives to himself and blows himself up in order to kill his son (Simon Ward).
Saturn 3 (1980) [Adam]: Killed in an explosion when he sacrifices himself to destroy the robot (Harvey Keitel) (by knocking them both into a pool to contain the blast). (Thanks to Fred)
Oscar (1991) [Eduardo Provolone]: Dies of old age/natural causes in his bed, leaving control of his crime organization to his son (Sylvester Stallone). (Thanks to Stephen)
TV Deaths
[
]
Amos (1985 TV) [Amos Lasher]: Commits suicide by injection (I don't remember what he injects in his veins) in order to frame Elizabeth Montgomery for his death.
Connections
[
]
Ex-husband of

Diana Douglas

.
Gallery
[
]
kirkdouglas.jpg