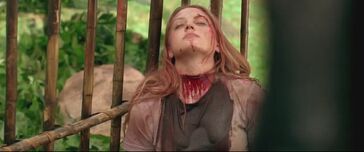 Kirby Bliss Blanton (1990 - )
Tell Me How I Die (2016) [Kristen]: While running from Ethan Peck, Kirby inadvertently slides head first down a laundry chute, which Ethan had previously lined with barbed wire. After receiving numerous cuts over her body from sliding through the barbed wire, she manages to stop her slide right before her face hits a large ball of the wire that Ethan had placed at the bottom of the chute. Ethan then slides down after her and kicks her head into the wire. The camera cuts away right before the wire impacts her face. Virginia Gardner later discovers Kirby's body outside (while Virginia is also running from Ethan), which has frozen solid from the cold.
Community content is available under
CC-BY-SA
unless otherwise noted.