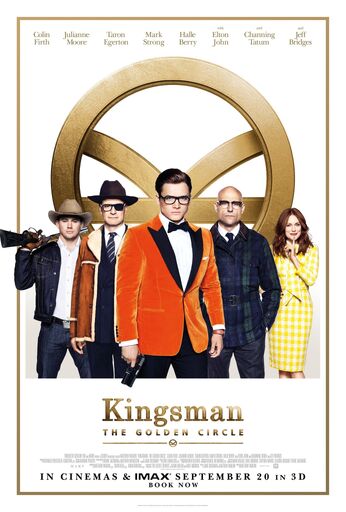 Kingsman: The Golden Circle (2017)
Directed by Matthew Vaughn
With their headquarters destroyed and the world held hostage, members of Kingsman find new allies when they discover a spy organization in the United States known as Statesman. In an adventure that tests their strength and wits, the elite secret agents from both sides of the pond band together to battle a ruthless enemy and save the day, something that's becoming a bit of a habit for Eggsy.
The film's cast includes five Oscar winners: Julianne Moore, Halle Berry, Jeff Bridges, Colin Firth, and Elton John.
The original cut ran 80 minutes longer.
Julianne Moore based her characterization of Poppy on Gene Hackman's performance as Lex Luthor in the Superman movies.
The robot dogs, Bennie and Jet, are a reference to Elton John's song "Bennie and the Jets."
Mark Strong, who plays Merlin, provides the voice-over for Vue Cinemas in the UK and Ireland with regards to cinema etiquette. Exclusively for "Kingsman: The Golden Circle" screenings, he delivers the etiquette message in character as Merlin, reminding audiences to switch off their phones in his own unique style.
Community content is available under
CC-BY-SA
unless otherwise noted.