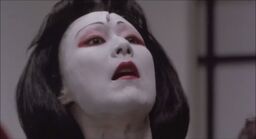 Kim Miyori (1951 - )
St. Elsewhere: Hello, Goodbye (1984) [Dr. Wendy Armstrong]: Commits suicide by taking a drug overdose. (Thanks to Felecia)
Airwolf: The Deadly Circle (1985) [Lia Van Luong]: Murdered by her lover, Robert Ito, at her apartment when her body is discovered by Jan-Michael Vincent in an elevator just as the

doors open after she has a change of heart by not going through his cruel plan of killing several innocent families. It is not clear how she was killed, but it is reasonable to imagine that she was most likely shot. (Thanks to Julian)
Babylon 5: Severed Dreams (1996) [Captain Sandra Hiroshi]: Killed in an explosion when she deliberately crashes her badly-damaged ship into an enemy vessel. We see the entire ship

explode from a distance, shortly after hearing her final radio transmission.
Community content is available under
CC-BY-SA
unless otherwise noted.