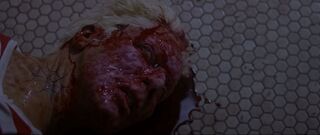 Kevin Nash (1959 - )
a.k.a. Diesel, or Vinnie Vegas, or Steele, or. Oz 
Teenage Mutant Ninja Turtles II: Secret Of The Ooze (1991) [Super Shredder]: Crushed to death by falling debris from a pier while trying to kill the Turtles, after transforming from François Chau by drinking the radioactive ooze (due to the triple nature of this role, Francois playing the Shredder, Kevin playing the Super Shredder, and David McCharen providing the voice, I'm including it for all three entries).
The Punisher (2004) [The Russian]: Neck broken/skull cracked open when Thomas Jane tackles him down a flight of stairs at the end of a long fight, after having scolding water thrown in his face.
River of Darkness (2011) [Jayden Jacobs]: Killed (off-screen) 30 years prior to the movie's events (along with Sid Vicious) by vigilanties; he appears throughout as a zombie.
Community content is available under
CC-BY-SA
unless otherwise noted.