Wiki Targeted (Entertainment)
Play Sound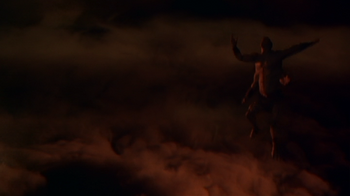 Kevin Michael Richardson (1964 - )
Profilic Voice-over Actor
Not to be confused with the singer Kevin Richardson
Film Deaths
[
]
Mortal Kombat (1995) [Goro]: Providing the voice of an animated character, he falls to his death after being knocked off a cliff during a fight with Linden Ashby.

Tom Sawyer (2000; animated)

[Injurin Joe]: Crushed to death by falling rocks.
The Powerpuff Girls Movie (2002; animated) [Rocko Socko/Ojo Tango]: Rocko Socko is killed by Buttercup (Elizabeth Daily) when she punches him into a building after he tries to kill the Talking Dog (Tom Kane), Ojo Tango is killed in an explosion when Blossom (

Cathy Cavadini

) kicks off a section of his tank causing it to crash and explode.
The Animatrix (2003; animated)

[Thadeus]: Killed among the crew when the Osiris exploded after being attack by machines.
Scooby-Doo and the Legend of the Vampire (2003; animated) [Yowie Yahoo/Malcolm Llliwara]: "The Yowie Yahoo" is destroy by a beam from the Sun that reflected off of Scooby-Doo's (Frank Welker) Collar. Malcolm Llliwara lived!
Final Flight of the Osiris (2003; animated) [Thaddeus]: Killed in an explosion, along with everyone else on board, when the Osiris is destroyed. (This short was later re-released as a segment in The Animatrix.)
TMNT (2007; animated) [General Aguila]: Killed in the explosion along with Generals Gato and Mono (voiced by Fred Tatasciore), and Serpiente (voiced by Paula Mattioli) after being knocked into the portal by the 13th monster and becoming human again.
Scooby-Doo and the Samurai Sword (2009; animated) [The Black Samurai/Sojo]: "The Black Samurai" dies from aging rapidly after Scooby-Doo (Frank Welker) destroy the Sword of Doom. He dies thanking Scooby-Doo, the Gang and their friends for freeing him as he dies peacefully. "Sojo" Lives!
Transformers: Revenge of the Fallen (2009) [Prime #2/Skipjack/Rampage]: Providing the voice of several robots, "Prime #2" sacrifices himself by transforming himself into a tomb to protect the Matrix; shown in a flashback sequence. "Skipjack" is decapitated by Bumblebee. "Rampage" is shot into pieces by John Turturro's men. (Thanks to Tommy)
John Dies at the End (2012) [Korrok]: Providing the voice of an organic computer, he is destroyed in an explosion when

Bark Lee

jumps at him with a bomb.
The Secret Life of Pets (2016; animated) [Viper]: Providing the voice of an enormous, red South American Bushmaster, he is crushed to death by two piles of bricks and exploding concrete when Eric Stonestreet (Duke) ties him to a pole in order to save Louis C.K. (Max) from being killed by Kevin Hart (Snowball); he is later shown being mourned, with only his tail sticking out.
Mortal Kombat Legends: Scorpion's Revenge (2020) [Goro]: Is killed by having his spinal cord ripped out by Patrick Seitz when Kevin attempts to kill

Jordan Rodrigues

.
TV Deaths
[
]
Samurai Jack: Episode VII (2002; animated) [Well of King Ozric]: Destroyed by Jack (voiced by Phil LaMarr).
Samurai Jack: Episode XVI (2002; animated) [Ganeesh]: Decapitated by Jack (voiced by Phil LaMarr).
Samurai Jack: Episode XVIII (2002; animated) [Ultra-Robots]: All destroy by Jack (voiced by Phil LaMarr).
Star Wars: Clone Wars: Chapter 20 (2004; animated) [K'Kruhk]: Strike down (offscreen) by General Grievous (voiced by John DiMaggio). (Despite his death, he returns in the expanded universe, where he was actually badly wounded and lived.)
Duck Dodgers: Till Doom Do Us Part (2005; animanted) [Agent Roboto/Nasty Canasta]: Playing a dual role, "Agent Roboto sacrifices himself to save Duck Dodgers (Joe Alaskey) and the rest of the people on Mars from being destroyed by the meteor he had originally sent. "Nasty Canasta" survives.
Teen Titans: The End Part 3 (2005; animated) [Trigon]: Destroyed by his daughter: Raven (Tara Strong) by using a monumental wave of white energy.
The Boondocks: Return of the King (2006) [Dr. Martin Luther King Jr.]: Dies of old age (off-screen) as shown in a newspaper article dated 2020. A dialogue from Huey (Regina King) reveals that the whole episode was Huey's imagination and Martin actually died from his real-life in his 1968 assassination.
Ben 10: Ultimate Alien: ...Nor Iron Bars a Cage (2010; animated) [Kwarrel]: Shot and killed by Morgg (voiced by Xander Berkeley).
Star Wars: The Clone Wars: Nomad Droids (2011; animated) [Hay-Zu/CS-321/Pirate #1]: "Hay-Zu" is crushed by R2-D2 When C-3PO (Anthony Daniels) accidentally pushed him. "CS-321" is shot by Battle Droids (Matthew Wood). "Pirate #1" is sucked into space.
Green Lantern: The Animated Series: Heir Apparent (2012; animated) [Dulok/Kilowog]: Poison by Ragner (Will Friedle from a drink that was given by him. His body is later found Aya (Grey Griffin) and Razer (

Jason Spisak

). His ring goes to Iolande (Tara Strong). Kilowog lives!(Note: Had the show gotten a Seocnd Season, Dulok would've return as a Black Lantern.)
Star Wars: The Clone Wars: Eminence (2013; animated) [Xomit Grunseit/Jabba the Hutt/Gorga the Hut]: "Xomit Grunseit" is killed by Savage Opress (voiced by Clancy Brown) along with four other fallen nobles. "Jabba" and "Gorga" survive.
Gravity Falls: Northwest Mansion Mystery (2015) [Archibald Corduroy]: Gets washed up in an mudslide and gets chopped in the head by an axe. Returns as a vengeful ghost 150 years later, and once justice is restored, his spirit disappears.
Teenage Mutant Ninja Turtles: Earth's Last Stand (2016; animated) [Zorin/Shredder]: "Zorin" is killed along with Commander Mozar (Michael Dorn) and their forces when Fugitod (David Tennant) used the combination of Heart of Darkness and Dark Matter to destroy the Triceraton ship. Shredder lives!
Star vs the Forces of Evil: Starcrushed (2016) [Lekmet]: Turns to dust when he uses up his healing magic to save moon butterfly (Grey DeLisle).
Samurai Jack: Episode C (2017; animated) [The Guardian]: Killed by Aku (voiced by

Greg Baldwin

) during the 50 years along with the portal. His red sunglasses are found by Jack (voiced by Phil LaMarr), it is unknown, if he came to live after Jack destroy Aku in Episode CI.
Star vs the Forces of Evil: Cleaved (2019; animated) [Rhombulus]: Faded out of existence when the magic was destroyed, reduced to only a faceless diamond with 2 snakes.
Invincible: Who You Calling Ugly? (2021; animated) [The Mauler Twins/Monster Girl]: One of the Mauler Twins is blasted to death by a laser after being used as a shield by the other one; the other Mauler Twin and Monster Girl survive the episode.
Video Game Deaths
[
]
Star Wars: Knights of the Old Republic (2003) [Jolee Bindo] Killed either by himself or alongside

Courtenay Taylor

when in a lightsaber duel with the player character and Jennifer Hale, provided that the player chooses the dark side path. He survives the game if the player chooses the light side path.
Run Like Hell (2003) [Niles]: Assimilated by an alien lifeform (off-screen) who takes control of his body; the scene ends with him being surrounded by the aliens. His body is later destroyed by Lance Henriksen at the end of a fight.
Halo 2 (2004) [Tartarus]: Killed by Keith David at the end of a fight.
The Legend of Spyro The Eternal Night (2007) [Gaul]: Turned to stone then shattered by Elijah Wood.
Gallery
[
]