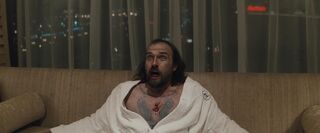 Kevin Gage (1959 - )
Heat (1995) [Waingro]: Shot in the chest by Robert De Niro in Kevin's hotel room (his body is later seen as Robert shoots Gage in the head/face).
Con Air (1997) [Billy Joe]: Punched in the face by Nicolas Cage after Kevin pulls out a switchblade, crushing his skull.
Ricky 6 (2000) [Pat Pagan]: Commits suicide by stepping in front of a train off-screen. His death is mentioned in Chad Christ's narration.
Paparazzi (2004) [Kevin Rosner]: Falls over a cliff when Cole Hauser runs Kevin's motorcycle off the road (with Cole then letting Kevin fall whilst pulling him up).
Amusement (2008) [Tryton]: Hit on the head with a sledgehammer by [[Keir O'Donnell].
Fear Clinic (2015) [Gage]: Shot to death (off-screen) by the killer black mask with a shotgun.
Jurassic City (2015) [Doyle]: Head eaten by a dinosuar after it rips his arm off.
Firefly: Jaynestown (2002) [Stitch Hessian]: Head bashed against the stone base of a statue by Adam Baldwin, in addition to being hit in the chest with a knife thrown by Adam.
Mr. Shannon Perris-Knight
Community content is available under
CC-BY-SA
unless otherwise noted.