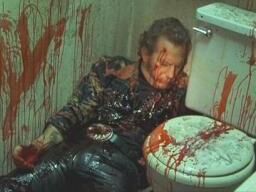 Kevin Costner (1955 - )
The Big Chill (1983) [Alex]: Commits suicide off-screen by slitting his wrists. Although his death is a major plot point, all of Kevin's scenes, apart from a brief glimpse of the body being dressed for the funeral, were cut, and he is completely absent from the finished film.
Stacy's Knights (1983) [Will Bonner]: Beaten to death off-screen by Mike Reynolds. His body is shown afterwards when Andra Millian discovers him.
The War (1994) [Stephen Simmons]: Dies in the hospital after being taken off life-support following being crushed by falling rocks in a cavern whilst saving Bruce A. Young.
Wyatt Earp (1994) [Wyatt Earp]: Dies off-screen in 1929. His death is only mentioned in the on-screen text at the end.
The Postman (1997) [The Postman]: Dies (off-screen) of unspecified causes between the scenes in 2013 and 2043. We learn about his death when his daughter (Mary Stuart Masterson) shows a statue which remembers him like a hero.
The New Daughter (2009) [John James]: Presumably burned to death/killed in an explosion along with Ivana Baquero when he deliberately drops a flare into a pool of gasoline in order to destroy the mound-walkers creatures to prevent Ivana's transformation.
Man of Steel (2013) [Jonathan Kent]: Dies when he is sucked into a tornado after his ankle is injured whilst rescuing his trapped pet dog, meaning he can't run back to his family, telling Henry Cavill not to use his powers to save him. Kevin reprises his role in Batman v. Superman as a ghost talking to Henry.
The Highwaymen (2019) [Frank Hamer]: Dies off-screen in 1955 from heat stroke. His death is mentioned in the closing credits.
Father of Annie Costner, Lily Costner and Michael Costner.
Ex-husband of Cindy Costner.
Husband of Christine Baumgarter.
Community content is available under
CC-BY-SA
unless otherwise noted.