Wiki Targeted (Entertainment)
Play Sound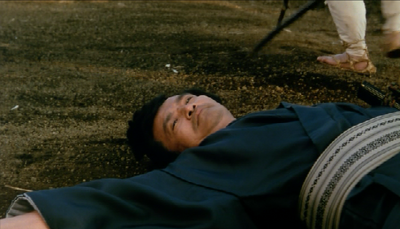 Ken Ogata (1937 - 2008)
Samurai Banners (Furin Kazan) (1969) [Samurai]: Shot with an arrow while trying to defend Toshiro Mifune.
The Last Samurai (Okami yo rakujitsu o kire) (1974) [Nakamura Hanjiro]: Shot to death by the military.
Vengeance is Mine (Fukushû suru wa ware ni ari) (1979) [Iwao Enokizu]: Executed for murder off-screen. His ashes are giving to his father who throws them off a cliff only to have them freeze mid air.
Virus (Day of Resurrection / Fukkatsu no hi) (1980) [Prof. Tsuchiya]: Dies of the virus.
Samurai Reincarnation (Makai tenshô) (1981) [Musashi Miyamoto]: Cut down the middle by Sonny Chiba in a sword duel.
The Geisha (Yokiro) (1983) [Katsuzo] Stabbed to death by a yakuza.
Mishima: A Life in Four Chapters (1985) [Yukio Mishima]: Commits suicide by cutting open his stomach via seppeku.
The Shogun's Shadow (Shôgun Iemitsu no ranshin - Gekitotsu) (1989) [Igo Gyobu]: Dies when he charges an army of samurai. The screen freezes and we hear dozens of musket shots.
Zatoichi (1989) [Rônin/Masterless samurai]: Cut down in a duel with Shintaro Katsu.
Gonin 2 (1995) [Toyama Masamichi]: Shot dozens of times by hitmen. Even though he is dead his body still stands.
Man Walking on Snow (Aruku, hito) (2001) [Nobuo Honma]: Has a heart attack while walking in the snow. There is a scene after the credits where he gets back up, but not sure if this is considered canon or if it was an outtake.
The Hidden Blade (Kakushi ken oni no tsume) (2004) [Chief Retainer Hori]: Stabbed in the heart with a needle by Masatoshi Nagase.
The Samurai I Loved (Semishigure) (2005) [Maki Sukezaemon]: Executed off-screen for endangering the clan. His body is later shown.
Father of Kanta Ogata
None
Community content is available under
CC-BY-SA
unless otherwise noted.