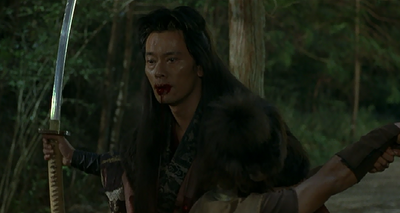 Ken'ichi Endo (1961 - )
Violent Cop (Sono otoko, kyobo ni tsuki; Warning, This Man Is Wild) (1989) [Emoto]: Stabbed to death by Hakuryû.
Nobody (1999) [Jippo]: Shot to multiple times by Masaya Kato and falls off a parking garage. However, right before the film ends he is shown perfectly fine when he tires to get a job at Masaya's firm.
The Guys from Paradise (Tengoku kara kita otoko-tachi) (2000) [Toshiyuki Umino] Shot to death by bandits. 
Tomie: Replay (2000) [Dr. Tachibana]: Commits suicide by jumping off the roof of a hospital. 
Agitator (Araburu tamashii-tachi) (2001) [Muroi]: Murdered off-screen. He goes to answer the door and we only hear him being killed. 
Sabu (2002) [Giichi]: Possibly dies after having his skull cracked by Tatsuya Fujiwara in a fight. It's stated that he is in critical condition, but his fate is never confirmed.
Azumi (2003) [Isshin Sajiki]: First has a sword thrown into his chest and then has his stomach slashed in a duel.
The Man in White (Yurusarezaru mono) (2003) [Niimi]: Shot to death by Masaya Kato.
Flower and Snake (Hana to hebi) (2004) [Kanzô Morita]: Shot to death by Aya Sugimoto. 
Azumi 2: Love and Death (2005) [Kinkaku]: Dies after throwing dynamite at a nearby enemy to blow him up. He dies of his wounds while talking to Shun Oguri.
20th Century Boys 1: Beginning of the End  (20-seiki shônen: Honkaku kagaku bôken eiga) (2008) [Bloody Man]: Beaten to death by vagrants.
None
Community content is available under
CC-BY-SA
unless otherwise noted.