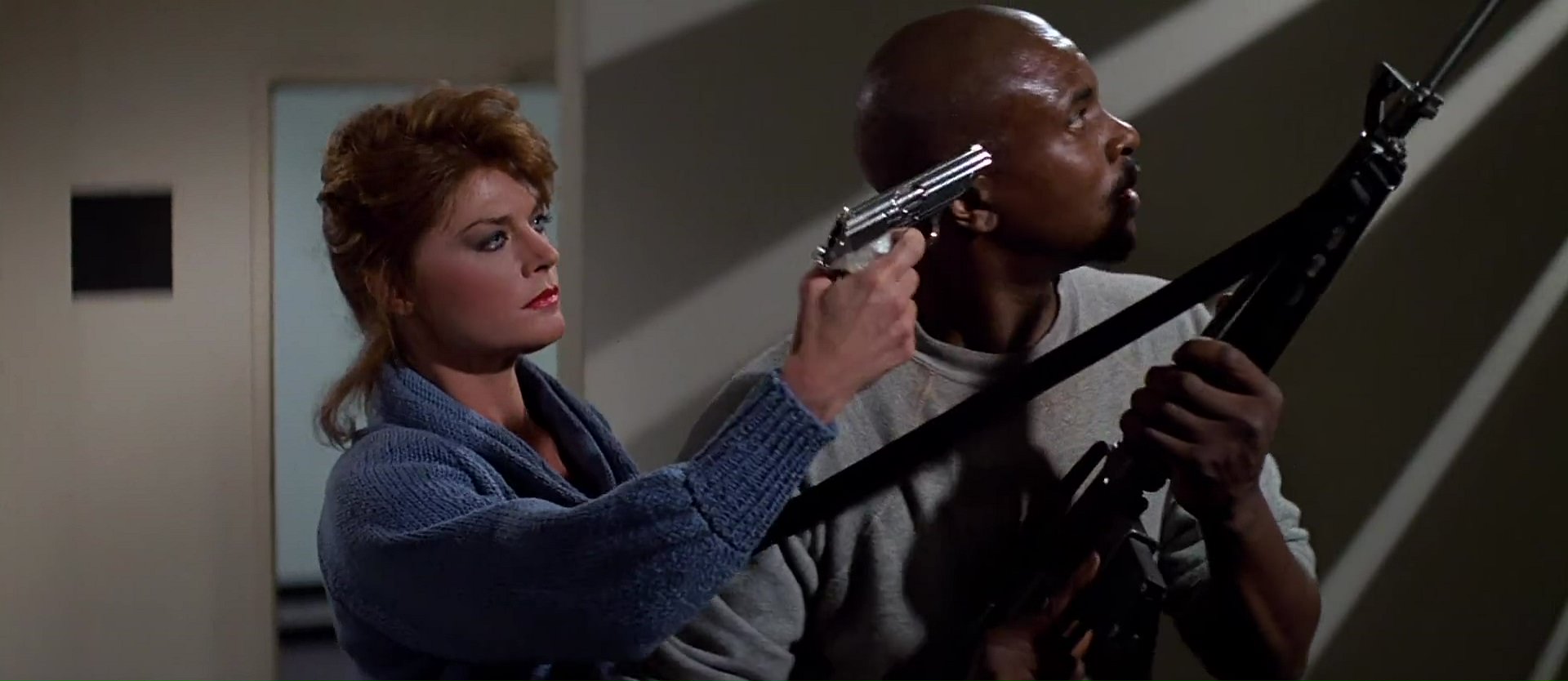 Keith David (1956 - )
Film Deaths
Edit
The Thing (1982) [Childs]: Possibly freezes to death (off screen); the film ends with David and Kurt Russell waiting in the snow and Russell's last line implicates that their fate is ambiguous. However, it's also possible that Keith is actually the alien in disguise, indicating that the real character was fatally assimilated some time beforehand.  The Thing (2002) PC game confirms he did freeze to death as the main character finds his frozen body near the beginning.
Off Limits (1988) [Maurice]: Killed by the Sappers after they threw a grenade into his hotel room and machine gunned at him.
The Puppet Masters (1994) [Alex Holland]: Shot to death by Sam Anderson.
Princess Mononoke (Mononoke-hime) (1997; animated) [Okkoto]: Killed by the forest spirit after being transformed into a demon. (See also Hisaya Morishige in the Japanese version.) (Thanks to Matt)
Justice League: The New Frontier (2008; animated, video) [The Centre]: Explodes into outer space after being brought into space by Green Lantern (voiced by David Boreanaz).
The Fifth Commandment (2008) [Max 'Coolbreeze' Templeton]: Shot to death by police after he willingly surrenders so that Rick Yune and Dania Ramirez can get away.
Free Birds (2013; animated) [Cheif Broadbeak]: Crushed/burned alive while propping a fallen tree branch in order for Reggie (Owen Wilson), Jake (Woody Harrelson), Jenny (Amy Poehler) to escape from the burning tree with the baby turkeys.
TV Deaths
Edit
Spawn (1997; animated series) [Al Simmons/Spawn]: Burned to death by John Rafter Lee; he returns to life with super-powers and continues as the hero throughout the series' run. (Thanks to Matt)
Deaths in Video Games
Edit
Transformers: The Game (2007) [Barricade]: In the official story of the game (Autobot campaign, Xbox 360/Wii/PC/PlayStation 2/PlayStation 3 versions), he's beaten to death by Bumblebee.
Transformers: Autobots (2007) [Barricade]: He is killed in battle by Optimus Prime (Peter Cullen), but dies revealing to Prime that he was merely a distraction while the other Decepticons freed Megatron (Frank Welker) from his icy prison.
Transformers: Decepticons (2007) [Barricade]: Tries to apprehend the traitorous Starscream (Daniel Ross), but is killed by the latter.
Dissidia: Final Fantasy (2008) [Chaos]: After being defeated in combat by the player, his body is engulfed in flames as he vanishes from the realm. (His death is also repeated in the game's prequel, Dissidia Duodecim: Final Fantasy.)
Saints Row 2 (2008) [Julius]: Shot in the head by the player character.
Mass Effect 3 (2012) [Admiral David Anderson]: Shot in the stomach by the player character (Mark Meer or Jennifer Hale) while the player is being mind controlled by Martin Sheen. Depending on the player's decisions, Keith either dies after speaking to Mark/Jennifer or is shot in the back by Martin.
Community content is available under
CC-BY-SA
unless otherwise noted.