Wiki Targeted (Entertainment)
Play Sound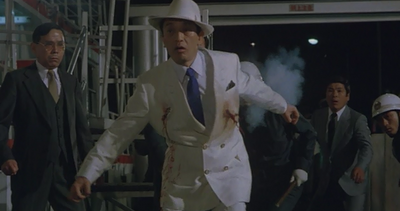 Kei Sato (1928 - 2010)
Film Deaths
[
]
Harakiri (Seppuku) (1962)[Masakazu] Commits seppuku off-screen. We just seeing him getting ready to kill himself and tells Tatsuya Nakadai to continue living his life. 
Onibaba (1964) [Hachi]: Speared in the stomach by a bandit.
Miyamoto Musashi: The Duel at Ichijoji (Miyamoto Musashi: Ichijôji no kettô) (1964) [Otaguro]: Cut down by Kinnosuke Nakamura when Kei and numerous other samurai lay an ambush for Kinnosuke.
Samurai Spy (Ibun Sarutobi Sasuke) (1965) [Takanosuke Nojiri]: Cut down by Koji Takahashi.
Young Boss Takeshi (Waka oyabun) (1965) [Izo] Stabbed to death by Raizô Ichikawa.
The Sword of Doom (Dai-bosatsu tôge) (1966) [Kamo Serizawa]: Stabbed in the throat with a sword by one of his former comrades.
Zatoichi's Vengeance (Zatoichi no uta ga kikoeru) (1966) [Boss Gonzo]: Stabbed to death by Shintaro Katsu with his cane sword.
Violence at Noon (Hakuchû no tôrima) (1966) [Eisuke Oyamada]: Executed off-screen for murder. His death is mentioned on the town's loud speaker.
Japanese Summer: Double Suicide (Muri shinjû: Nihon no natsu) (1967) [Otoko]: While he is still alive at the end of the film he is preparing to commit a double suicide by the swarm of police that surround him by charging them. They are already firing at him, and he's ready to die as the film ends.
Goro the Assassin (Burai Hitokiri Goro) (1968) [Yakuza]: Stabbed to death by rival gangsters.
'Three Resurrected Drunkards  (Kaette kita yopparai) (1968) [Y Chong - iru ]: Executed by being shot in the head at a train station.
The Devil's Temple (Oni no sumu yakata) (1969) [Priest] Stabbed to death. 
The Ceremony (Gishiki) (1971) [Sakurada Kazuomi, Grandfather]: Dies of old age off-screen. It cuts to his funeral.
Zatoichi's Conspiracy (Shin Zatôichi monogatari: Kasama no chimatsur) (1973) [Magistrate]: Throat cut open by Shintaro Katsu with his cane sword. 
Demon Spies (Oniwaban) (1974) [The Mentor]: Stabbed multiple times releasing a geyser of blood from his chest.
Yakuza Graveyard (Yakuza no hakaba: Kuchinashi no hana) (1976) [Teramitsu Abara]: Shot to death by Tetsuya Watari while Kei is in a meeting at the police station.
The Killing Game (Satsujin yugi) (1978) [Shoichi Katsuda] Shot by Yûsaku Matsuda.  
The Execution Game (Shokei yugi) (1979) [Otawara] Shot by Yûsaku Matsuda.  
Wives of the Yakuza (Gokudô no onna-tachi) (1986) [Hitoshi Awatsu, Migiwa's husband]: Shot by Riki Takeuchi just as he is released from prison.
TV Deaths
[
]
Lone Wolf and Cub: Episode 3.26 (1976) [Yaguy Retsudo]: Dies after being stabbed in the stomach by a child.