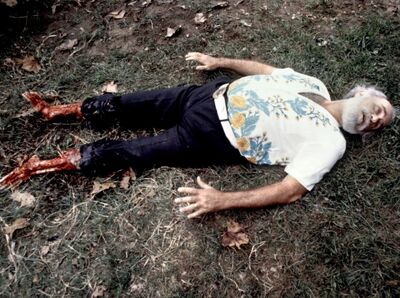 Keenan Wynn (1916 - 1986) 
Film Deaths
Dr. Strangelove or: How I Learned to Stop Worrying and Love the Bomb (1964) [Col. Bat Guano]: Killed (along with everybody else in the world) when the Soviets' doomsday device goes off; we only see a series of nuclear explosions at the end of the movie.
Stagecoach (1966) [Luke Plummer]: Shot to death in a shoot-out with Alex Cord in a saloon. (Thanks to Richard)
The War Wagon (1967) [Wes Fletcher]: Shot in the chest by a Native American warrior after Keenan pulls a knife on him. (Thanks to Stephen)
Welcome to Hard Times (1967) [Zar]: Shot in the chest by Warren Oates (who had mistaken him for Aldo Ray) when Keenan runs out of the burning saloon.
Mackenna's Gold (1969) [Sanchez]: Shot to death, along with several other bandits and townspeople, in an ambush by the cavalry.
The Manipulator (1971) [Old Charlie]: Stabbed in the chest with a sword by Mickey Rooney in Mickey's warehouse "film studio", as Launa Anders looks on in horror.
Pretty Maids All In a Row (1971) [Chief John Poldaski]: Neck snapped (off-screen) by Rock Hudson; his body is shown afterwards (along with Joy Bang's) lying on the football field the next morning.
The Mechanic (1972) [Big Harry McKenna]: Asphyxiated by Charles Bronson after Charles shoots Keenan making him think that the shots are being fired by a hidden sniper. Having Keenan a weak heart, runs up a steep incline, which triggers a heart attack which is finished by Charles.
Orca: The Killer Whale (1977) [Novak]: Dragged into the sea by the maddened orca after Keenan disposes of the body of the orca's dead mate from Richard Harris' boat.
Piranha (1978) [Jack]: Bleeds to death after the piranhas eat his feet. (Thanks to Michael)
Black Moon Rising (1986) [Iron John]: Killed (off-screen) by Lee Ving's thugs; his body is shown afterwards when Tommy Lee Jones discovers him. (Thanks to Michael)
Notable Connections