Line 1:
Line 1:
 
+

[[File:Keeganmichaelkey.jpg|thumb|325x325px|Keegan Michael Key in ''Hell Baby.'']] [[File:Keeganmichaelkey2.jpg|thumb|325x325px|Keegan Michael Key death in ''Hell Baby.'']] [http://www.imdb.com/name/nm1221047/ Keegan Michael Key] (1971 - )

−

[[File:Keeganmichaelkey.jpg|thumb|325x325px|Keegan Michael Key in ''Hell Baby.'']] [[File:Keeganmichaelkey2.jpg|thumb|325x325px|Keegan Michael Key death in ''Hell Baby.'']] [http://www.imdb.com/name/nm1221047/ Keegan Michael Key] (1971 - ) ==Film Deaths== *'''''Hell Baby'' (2013)''' [''F'Resnel'']: Run over by [[Dave Holmes]] while [[Rob Corddry]] and [[Leslie Bibb]] watch in horror. (Played for Comedic Relief) *'''''Tomorrowland'' (2015)''' [''Hugo'']: Playing an android, he dies in an explosion when he self destructs after being stabbed with a pole by [[Raffey Cassidy]] who's trying to save [[Britt Robertson]] from Keegan and [[Kathryn Hahn]]. *'''''[[Keanu (2016)|Keanu]]''[[Keanu (2016)| (2016)]]''' [''Smoke Dresden'']: Playing the dual roles of Clarence Robinson and Smoke Dresden, Oil is shot to death along with his brother (played by [[Jordan Peele]]) by Rell (also played by Jordan) on top of having been shot several times by Clarence. Claren cesurvives the movie. ==TV Deaths== *'''''Mad TV Season 14 Ep. 9'' ''(Saw IV: Jing''<span id="cke_bm_49S" style="display:none;"> </span><span style="display:none;"> </span>''le Hell'''<span style="display:none;"> </span><span id="cke_bm_49E" style="display:none;"> </span>) '''''(2008) '''[''First Victim'']: Dies after drinking expired egg nog while [[Bobby Lee]], [[Michael McDonald]], [[Frank Caliendo]], and [[Arden Myrin]] watch in horror.''' '''''('''Played for Comic Effect.)''''' *'''''Key and Peele: Pilot Episode (2012)''''' [''Self'']: Shot to death along with [[Keegan Michael Key]] in the opening theme song which is shown during the first two seasons. '''(For comedic effect.)''' *'''''[[Fargo (2014 series)|Fargo: Morton's Fork (2014)]]''''' [''FBI Agent Pepper'']: Shot in the throat by [[Billy Bob Thornton]]. *'''''Key and Peele: 420 Special (2015)''''' [''Interviewee'']: Chokes to death after randomly swallowing some beautiful looking marbles. '''(Played for comedy effect.)''' {{DEFAULTSORT:Key, Keegan-Michael}}

 
 
+
 
+

=='''Film Deaths:'''==

 
+
 
+

*'''''Hell Baby'' (2013)''' [''F'Resnel'']: Run over by [[Dave Holmes]] while [[Rob Corddry]] and [[Leslie Bibb]] watch in horror. (Played for Comedic Relief)

 
+
 
+

*'''''Tomorrowland'' (2015)''' [''Hugo'']: Playing an android, he dies in an explosion when he self destructs after being stabbed with a pole by [[Raffey Cassidy]] who's trying to save [[Britt Robertson]] from Keegan and [[Kathryn Hahn]].

 
+
 
+

*'''''[[Keanu (2016)|Keanu]]''[[Keanu (2016)| (2016)]]''' [''Smoke Dresden'']: Playing the dual roles of Clarence Robinson and Smoke Dresden, Oil is shot to death along with his brother (played by [[Jordan Peele]]) by Rell (also played by Jordan) on top of having been shot several times by Clarence. Claren cesurvives the movie.

 
+
 
+

=='''TV Deaths:'''==

 
+
 
+

*'''''Mad TV Season 14 Ep. 9'' ''(Saw IV: Jing''<span id="cke_bm_49S" style="display:none;"> </span><span style="display:none;"> </span>''le Hell''''<span style="display:none;"> </span><span id="cke_bm_49E" style="display:none;"> </span>) ''(2008) '''[''First Victim'']: Dies after drinking expired egg nog while [[Bobby Lee]], [[Michael McDonald]], [[Frank Caeti]], and [[Arden Myrin]] watch in horror.''' ''(For Comedic Effect.)'''''

 
+
 
+

*'''''Key and Peele: Pilot Episode (2012)''''' [''Self'']: Shot to death along with [[Keegan Michael Key]] in the opening theme song which is shown during the first two seasons. '''(For comedic effect.)'''

 
+
 
+

*'''''[[Fargo (2014 series)|Fargo: Morton's Fork (2014)]]''''' [''FBI Agent Pepper'']: Shot in the throat by [[Billy Bob Thornton]].

 
+
 
+

*'''''Key and Peele: 420 Special (2015)''''' [''Interviewee'']: Chokes to death after randomly swallowing some beautiful looking marbles. '''(Played for comedy effect.)''' {{DEFAULTSORT:Key, Keegan-Michael}}

 

[[Category:Actors|Key, Keegan Michael]]

 

[[Category:Actors|Key, Keegan Michael]]

 

[[Category:1971 Births|Key, Keegan Michael]]

 

[[Category:1971 Births|Key, Keegan Michael]]
---
Revision as of 14:52, 27 October 2016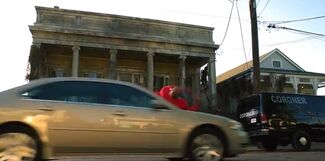 Keegan Michael Key (1971 - )
Film Deaths:
Hell Baby (2013) [F'Resnel]: Run over by Dave Holmes while Rob Corddry and Leslie Bibb watch in horror. (Played for Comedic Relief)
Tomorrowland (2015) [Hugo]: Playing an android, he dies in an explosion when he self destructs after being stabbed with a pole by Raffey Cassidy who's trying to save Britt Robertson from Keegan and Kathryn Hahn.
Keanu (2016) [Smoke Dresden]: Playing the dual roles of Clarence Robinson and Smoke Dresden, Oil is shot to death along with his brother (played by Jordan Peele) by Rell (also played by Jordan) on top of having been shot several times by Clarence. Claren cesurvives the movie.
TV Deaths:
Key and Peele: Pilot Episode (2012) [Self]: Shot to death along with Keegan Michael Key in the opening theme song which is shown during the first two seasons. (For comedic effect.)
Key and Peele: 420 Special (2015) [Interviewee]: Chokes to death after randomly swallowing some beautiful looking marbles. (Played for comedy effect.)