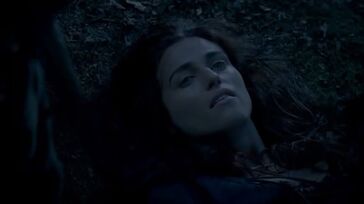 Katie McGrath (1983 - )
Freakdog (Red Mist) (2008) [Harriet]: Drained of blood by Andrew Lee Potts (while possessing her boyfriend) with medical syringes in a bathtub (off-screen); her body is shown when Arielle Kebbel discovers her.
W.E. (2011) [Lady Thelma]: Dies of a heart attack (off-screen) during the passage of time between the 1930s and 2001. Her death is not mentioned, but is a matter of historic record.
Jurassic World (2015) [Zara]: Eaten by a Mosasaurus while struggling with a Pteranodon in the Mosasaurus' lagoon.
Labyrinth: Episode 2 (2012) [Oriane]: Stabbed in the stomach by Emun Elliott with a dagger; she dies after stumbling away.
Frontier: Cannonball (2017) [Elizabeth Carruthers]: Bludgeoned to death with a table ornament by Shawn Doyle. Her body is shown again in the following episode "Keetom Takooteeoo Maheekum" (Return of the Wolf) when her husband (Allan Hawco) sees her.
Community content is available under
CC-BY-SA
unless otherwise noted.