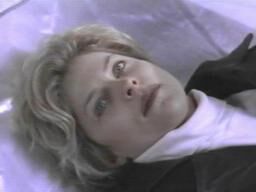 Kate Vernon (1961 - )
House of Secrets (Conspiracy of Terror) (1993) [Laura Morrell]: Strangled with a necklace by Melissa Gilbert in the shower; her body is shown again afterwards when Bruce Boxleitner discovers her. (Thanks to Drew)
Probable Cause (Sleepless) (1994) [Detective Lynn Reilly]: Shot in the stomach by Kirk Baltz in the woods; she dies in Michael Ironside's arms shortly afterwards (following a flashback explaining her history and motivations).
The Sister-in-Law (1995) [Rae Phillips/Sally Rae Preston/'Kelly Richards]: Shot (off-camera) during a struggle with Shanna Reed; we only hear the shot from outside the house, then see Kate walk outside, seemingly okay until she collapses.
Flight 90: Disaster on the Potomac (1984 TV) [Donna Adams]: Died (off-screen) from an impact on a plane crash hit the frozen river.
Falcon Crest: The Avenging Angel (1985) [Lorraine Prescott]: Dies after being taken off life-support after going into a coma in the hospital, after having been severely injured in a fall from a fire escape. (Thanks to PortsGuy)
Battlestar Galactica: Exodus Part 2 (2006) [Ellen Tigh]: Poisoned by Michael Hogan for treason; she dies in his arms shortly afterwards. In the next season, it's revealed that Kate is (unbeknownst to her and Michael) actually a Cylon; Cylons often self-resurrect in a new body after their consciousness downloads to a distant "resurrection ship." After Kate's resurrection, she is held hostage by her fellow Cylons to prevent her from rejoining Michael and Galactica. Kate actually survives until the end of the series.
The 100: Unity Day (2014) [Diana Sydney] killed when the dropship she is in crashes
Community content is available under
CC-BY-SA
unless otherwise noted.