Boba Fett Returns - The Loop
Play Sound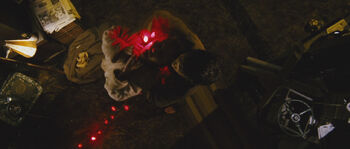 Karin Konoval (1961 -)
Deaths in Film
[
]
Alone in the Dark (2005) [Sister Clara]: Killed herself from her actions as the protagonists look at her dead body.
Black Christmas (2006) [Constance Lenz]: Strangled with Christmas lights by Robert Mann (in revenge for her murdering his beloved father and abusing him); Robert then drags her body into the kitchen, bashes her head with a rolling pin, and cuts out parts of her skin with a cookie-cutter. (Thanks to Robert and Domikate)
2012 (2009) [Sally, President's Secretary]: Either killed (perhaps crushed to death) when a massive earthquake hits or drowns when a tsunami engulfs Washington D.C. (Her death isn't shown, but she's last seen with the President (Danny Glover) before the earthquake hit).
Deaths in Television
[
]
The X-Files
Snow White: The Fairest of Them All (2001; TV movie) [Crone]: Presumably killed (off-screen) by an army of gnomes, after she's been transformed from her youthful Miranda Richardson appearance into her "Crone" form. We only hear her screaming as the gnomes close in on her. (Karin was wearing heavy old-age make-up for this role.) (Thanks to Roxy)
Supernatural: Bad Boys (2013): [Ruth]: Asphyxiated with a shower curtain by a supernatural entity while in the bathtub.
R.L. Stein's The Haunting Hour: Wrong Number (2011) [Mrs. Biazevich]: Dies (off-screen) of an unspecified illness; her body is shown being taken out of her apartment when Debby Ryan and Sarah Dugdale arrive home. She appears as a ghost throughout the rest of the episode to get revenge on Debby and Sarah.
iZombie: The Hurt Stalker (2015) [Dr. Erving]: She is killed (off-screen) between episode 2.05 and episode 2.08 (most likely by a zombie). It is described as an "laboratory accident" by Steven Weber when Leanne Lapp asks about her whereabouts in episode 2.08.
Gallery
[
]