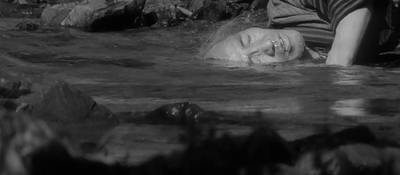 Kamatari Fujiwara (1905 - 1985)
The Bad Sleep Well (Warui yatsu hodo yoku nemuru) (1960) [Assistant-to-the-Chief Wada]: Murdered off-screen. His death is simply mentioned that the company wouldn't allow him to live after he was willing to give up secrets to help Toshirô Mifune.
Sanjuro (Tsubaki Sanjuro) (1962) [Takebayashi]: Commits hara-kiri off-screen. His death is mentioned to Toshiro Mifune.
Three Outlaw Samurai (Sanbiki no samurai) (1964) [Jinbe]: Stabbed in the back of the neck by hired ronin. His body then falls into a river.
The Sword of Doom (Dai-bosatsu tôge)' '(1966) [Omatsu's grandfather]: Sliced down the back by Tatsuya Nakadai.
Sailor Suit and Machine Gun (Sera-fuku to kikanju) (1981) [Ryuji Hoshi] Dies of old age off-screen.  His memorial is later shown. 
Community content is available under
CC-BY-SA
unless otherwise noted.