Wiki Targeted (Entertainment)
Play Sound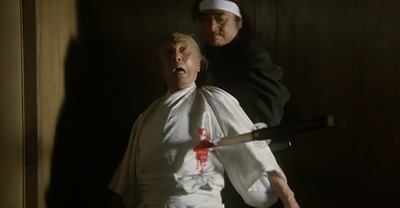 Ko Nishimura (1923 - 1997)
Pigs and Battleships (Buta to gunkan) (1961) [Yajima]: Kills himself off-screen since he owed money to the yakuza and couldn't repay fast enough. His body is later shown. 
Yojimbo (Yôjinbô) (1961) [Kuma]: Shot by Tatsuya Nakadai in an exchange of prisoners.
Gang Vs Gang (Gyangu taj Gayangu) (1962) [Gangster] Run over by a car. 
Shinobi No Mono (1962) [Kizaru]: Stabbed to death by Raizô Ichikawa.
13 Assassins (Jûsan-nin no shikaku) (1963) [Kujuro Hirayama]: Stabbed to death in the films climatic battle.
A Killer's Key (Aru koroshiya no kagi) (1967) [Bussiness Man] Kills himself by slicing open his wrists. 
Samurai Wolf II (Kiba Ôkaminosuke: jigoku giri) (1967) [Magobe]: Killed in a duel with Isao Natsuyagi.
Zatoichi the Outlaw (Zatôichi rôyaburi) (1967) [Kyushiro Suga]: Stabbed to death by Shintaro Katsu and his cane sword.
The Living Skeleton (Kyûketsu dokuro-sen) (1968) [Nishizato(Ship's doctor)]: Gets stuck in the gears of his machine breaking his body.
Samaritan Zatoichi (Zatôichi kenka-daiko) (1968) [Sosuke Saruya]: Stabbed in the back with a sword by Akira Shimizu.
Snake Woman's Curse (Kaidan hebi-onna) (1968) [Yaskuke] Dies due to malnutrition/old age with his family by his side after excerting himself on the road. 
Goyôkin  (1969) [Assassin]: Killed in a duel with Tatsuya Nakadai
Quick-draw Okatsu (Yoen dokufuden: Hitokiri okatsu) (1969) [Makabe]: Tortured to death.
Zatoichi goes to the Fire Festival (Zatôichi abare-himatsuri) (1970) [Migi]: Stabbed to death by one of Masayuki Mori's men.
Lady Snowblood 2: Love Song of Vengeance  (Shura-yuki-hime: Urami Renga) (1974) [Priest Dôkai]: While not appearing in the film, it is established that his character died between films when Meiko Kaji visits his grave.
The Rapacious Prisoner (Escaped Murderer from Hiroshima Prison; Datsugoku Hiroshima satsujinshu) (1974) [Prisoner] Run over by a truck. 
Manhunt (Kimi yo fundo no kawa wo watare) (1975) [Nagaoka Ryokai]: Shot to death byYoshio Harada.
Under the Blossom of the Cherry Trees (Sakura no mori no mankai no shita) (1975) [Warrior] Decapitated with a sword by Tomisaburô Wakayama
New Battles Without Honor and Humanity 2: Boss's Head (Shin jingi naki tatakai: Kumicho no kubi) (1975) [Tokuji Owada]: Shot to death by Tsutomu Yamazaki .
The Godfather: Resolution (Nihon no Don: Kanketsuhen) (1978) [Shigetomi Katta] Dies of sickness off-screen. 
47 Ronin (Shijûshichinin no shikaku) (1992) [Kôzukenosuke Kira]: Stabbed in the chest with a sword by Ken Takakura. Ken then proceeds to cut off Ko's head.
Community content is available under
CC-BY-SA
unless otherwise noted.