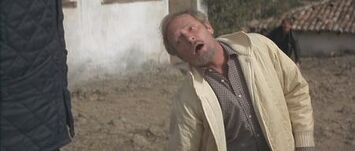 Julian Glover (1935 - )
Julian has a unique distinction of 'dying' in a Harry Potter, James Bond and Indiana Jones films as well as an unfinished deleted scene in a Star Wars film.
Film Deaths
Edit
Quatermass and the Pit (Five Million Years to Earth; The Mind Benders) (1967) [Colonel Breen]: Decomposed by the power emanating from the alien craft. (Thanks to Brian) (See also Anthony Bushell in the original TV version.)
TV Deaths
Edit
Blake's 7: Breakdown (1978) [Professor Karyn]: Killed in an explosion when the space station is blown up by Federation cruisers. (Thanks to PortsGuy)
Doctor Who: City of Death (1979) [Skaroth a.k.a. Count Scarlioni]: Playing an alien existing in several different points in the timestream, he is killed in an explosion when a spaceship crashes in Earth's prehistoric era, destroying all his future counterparts. (Thanks to PortsGuy)
Merlin: Arthur's Bane (2012) [Lochru]: Found dying in an underground cavern by Colin Morgan as Arthur's soldiers come across a village which has been attacked by Katie McGrath's men. It is not at all clear whether he has been assaulted or if he is dying of old age but hanging on, as he has a vision/prophecy to project for the benefit of Morgan's title character. (Thanks to Brian).
Holby City: No Apologies (2014) [Joe Goodridge]: Dies in hospital after two operations for abdominal complications. (Thanks to Brian)
Game of Thrones: The Winds of Winter (2016) [Grand Maester Pycelle]: Stabbed dozens of times by a gang of vagrant children under the orders of Anton Lesser.
Black Earth Rising E7: Double Bogey on the Ninth (2018) [Mark Viner]: Killed in an explosion in his storage garage by Nicholas Beveney who has rendered him helpless by removing his breathing tube and placing his oxygen cylinder some distance away and 'burying' him under a load of files before opening the cylinder and leaving a burning cigar for the oxygen to reach. (Thanks to Brian)
Notable Connections
Edit
Community content is available under
CC-BY-SA
unless otherwise noted.