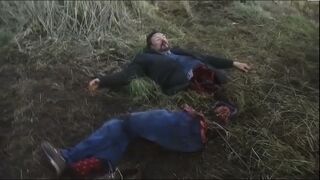 Julian Barratt (1968 - )
A Field in England (2013) [Trower]: Shot in the chest by Ryan Pope, in addition to being stabbed through the back with a pike.
ABCs of Death 2 (2014) [Wildlife Documentarian]: In the segment 'B is for Badger', Julian is mauled to death by an unseen badger; he's dragged through a hole and then spat out, having been bisected at the waist. (Played for Comedic Effect)
The Mighty Boosh: Bollo (2004) [Howard Moon]: Dies after being taken by "Phil the Reaper" (Noel Fielding) instead of the ape Bollo (Peter Elliott in a suit); he is later brought back to life when Vince Noir (also played by Fielding) brings Barratt back from the Monkey Hell. (Played for comic effect.)
The Mighty Boosh: The Strange Tale of the Crack Fox (2007) [Howard Moon/The Crack Fox]: "The Crack Fox" is crushed to death in a garbage truck after chasing "Howard Moon" and Noel Fielding out of the sewer (Played for comic effect.)
Community content is available under
CC-BY-SA
unless otherwise noted.