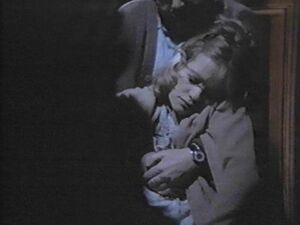 Judy Geeson (1948 - )
Berserk! (Circus of Terror) (1967) [Angela Rivers]: Electrocuted by being struck by lightning as she tries to run away after being revealed as the killer in front of her mother (Joan Crawford) and the circus audience. (Thanks to Rodzilla)
Twinsanity (Goodbye Gemini) (1970) [Jacki]: Strangled by her brother (Martin Potter) who then cradles her body in his arms as he commits suicide by turning on the gas in the apartment.
10 Rillington Place (1971) [Beryl Evans]: Strangled by Richard Attenborough after being anesthetized into unconsciousness. (We only see a close up of Richard tightening the cord during the murder). Her body is shown afterwards when Richard blackmails her husband, John Hurt, into helping him get rid of the body. Judy was pregnant at the time of her death, consequently, her unborn child also died.
Horror Planet (Inseminoid) (1981) [Sandy]: Strangled with a cable by Robin Clarke after she tries to kill him.
Community content is available under
CC-BY-SA
unless otherwise noted.