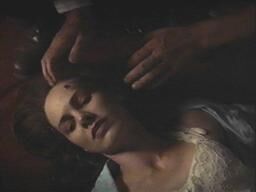 Judy Davis (1955 - )
The Final Option (Who Dares Wins) (1982) [Frankie Leith]: Machine-gunned by Lewis Collins during a raid on the terrorists' headquarters. (Thanks to Adrian and Rodzilla)
Georgia (1988) [Nina Bailey/Georgia White]: Playing a dual role as mother and daughter, "Georgia" (the mother) drowns after falling off of a dock during an argument with her lover. Shown in several flashbacks from different viewpoints, showing different versions of her death, as "Nina" (the daughter) interviews the people who knew her mother.
Barton Fink (1991) [Audrey Taylor]: Killed off-screen (exact method unclear) and later decapitated, presumably by John Goodman (though you can't be certain of anything in this movie). Her body is shown afterwards when John Turturro wakes up and finds her lying in bed next to him, covered in blood.
Naked Lunch (1991) [Joan Frost/Joan Lee]: As two different characters, is shot in the head while playing 'William Tell' with Peter Weller in two different scenes.
Children of the Revolution (1996) [Joan Fraser]: Shot in the chest by Rowan Woods while walking down the street. Shown as a series of black & white still frames.
Blood and Wine (1997) [Suzanne]: Fatally injured in a car crash while being chased by Jack Nicholson and Michael Caine; she dies in the car shortly afterwards while Jack searches her for some jewels.
The Dressmaker (2015) [Molly Dunnage]: Dies (off-screen) after falling into a coma from a stroke; we cut from her daughter (Kate Winslet) and Hugo Weaving trying to treat her to them attending her funeral.
Life with Judy Garland: Me and My Shadows (2001; TV film) [Judy Garland]: Dies of an overdose of barbiturates. (Thanks to Joe)
Community content is available under
CC-BY-SA
unless otherwise noted.