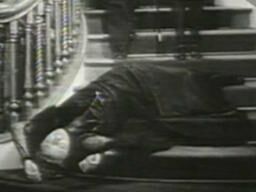 Judith Anderson (1897 - 1992)
Rebecca (1940) [Mrs. Danvers]: Burned alive in a fire when she is trapped inside and Manderly comes crashing down on her moments later.
And Then There Were None (1945) [Emily Brent]: Poisoned with a syringe needle (off-screen) by Barry Fitzgerald; all we see when the other guests discover her body is her hand limply hanging over the side of her rocking chair.
The Strange Love of Martha Ivers (1946) [Mrs. Ivers]: Falls to her death down a staircase after being hit on the head with a cane by her niece (Janis Wilson).
The Red House (1947) [Ellen Morgan]: Accidentally shot by Rory Calhoun.
The Furies (1950) [Flo Burnett]: Stabbed in the eye by Barbara Stanwyck. (Thanks to Howard)
The Ten Commandments (1956) [Memnet]: Pushed over a balcony to her death (off-screen) by Anne Baxter; all we see is Judith backing away out of the frame in fear as Anne draws closer to her. (Thanks to Johan, Adrian, and Michael)
A Man Called Horse (1970) [Buffalo Cow Head]: Dies of old age, compounded by grief over the death of her son; we last see her collapsing at his funeral pyre. (Thanks to Brian)
Hallmark Hall of Fame: Macbeth (1954) [Lady Macbeth]: Commits suicide.
Producer's Showcase: Caesar and Cleopatra (1956) [Ftatateeta]: Throat slit by Jack Hawkins. (Thanks to Gordon)
Macbeth (1960; TV movie) [Lady Macbeth]: Commits suicide.
Community content is available under
CC-BY-SA
unless otherwise noted.