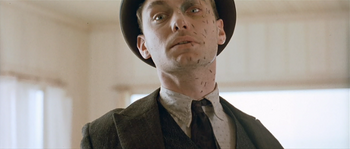 Jude Law (1972 - )
Film Deaths
Edit
Shopping (1994) [Billy]: Killed in a car crash or shot to death when he crashes a stolen car into a mall window as the police fire on the car. (I don't know whether it was the crash or the gunfire that killed him.) (Thanks to M.)
Gattaca (1997) [Jerome Eugene Morrow]: Commits suicide by burning himself in an incinerator. (Thanks to Elizabeth and Jovita)
Midnight in the Garden of Good and Evil (1997) [Billy Carl Hanson]: Shot to death (off-screen) by Kevin Spacey in Kevin's study. His body is shown afterwards when John Cusack arrives in the middle of the police investigation (he later appears as a spirit depicted in death as Kevin is dying).
Final Cut (1998) [Jude]: Stabbed in the back and neck; the movie opens with his funeral and the murder is shown in flashback. (Thanks to M. and Liz)
Immortality (The Wisdom of Crocodiles) (1998) [Steven Grlscz]: Stabbed in the hand by Elina Lowensohn as he tries to save her from killing herself at a moment when he's dying for his monthly dose of blood; he gives up the idea of killing her because he knows he's done for, and she leaves, letting him bleed to death in painful agony. (Thanks to M. and Vanessa)
Existenz (1999) (eXistenZ) [Ted Pikul]: Killed in an explosion when Jennifer Jason Leigh detonates a bomb secretly planted in his spine blowing open his back in the process (this later turns out to be a simulation and he survives the film in reality)
The Talented Mr. Ripley (1999) [Dickie Greenleaf]: Beaten to death with an oar by Matt Damon during a fight (when Jude rejects Matt) while out in a boat with him (he dies as Matt holds him); Matt then dumps Jude's body overboard before sinking the boat (so Matt can then assume Jude's identity).
Sleuth (2007) [Milo]: Shot in the stomach by Michael Caine; he then falls down an elevator shaft. (Thanks to Hamish, and Thierry)
Rise of the Guardians (2012; animated) [Pitch Black]: Presumably destroyed when his own nightmares turn against him (I don't know if this contributes as a death but I thought I'd list it just in case).
King Arthur: Legend of the Sword (2017) [King Vortigern]: Stabbed in the chest with Excalibur at the end of a fight with his nephew (Charlie Hunnam) while Jude is in his magically superpowered form; Jude reverts back to human form as he dies while Charlie watches on.
Television Deaths:
Edit
Jimmy Kimmel Live (February 25, 2013) [Random Victim]: In the "Movie: The Movie V2" skit, Law is mauled to death by sexy vampires; his death is seen as Jimmy Kimmel and Jessica Chastain watch from a monitor. (Played for comic effect.)
Notable Connections
Edit
Community content is available under
CC-BY-SA
unless otherwise noted.