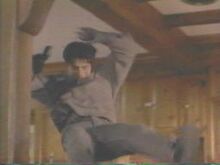 Judd Nelson (1959 - )
Conflict of Interest (1993) [Charles (Gideon) Morningside]: Shot in the head by Christopher McDonald, causing his car to ram into a gas tank which explodes.
Circumstances Unknown (1995) [Paul Kinsey]: jumps out of a boat and into the water after seeing a ghostly figure its unknown if Judd's character in this died from drowning.
Nurse 3D (2014) [Dr. Morris]: Bleeds to death after having his arm sliced off by Paz de la Huerta.
Hiroshima: Out of the Ashes (1990) [Pete Dunham]: Wounded in battle and succumbs to his wounds he bleeds to death.
Sex & Bullets (2001; TV Movie) [Seymour Cassel] Gets shot to death in the back by Amy Hathaway
Netherbeast Incorporated (2007; TV Movie) [Steve the consultant]: Gets stuck in the chest with the point of a gun by Steve Burns and bleeds out to death.
Infected (2008; TV movie) [Malcolm Burgess]: Stabbed by the creature's claws and later succumbs to blood loss from the wounds caused.
Nikita: Set-Up (2013) [Ronald Peller]: Playing a dual role as "Ronald Peller" and his double, the double is shot in the back by Maggie Q, just as the double is about to kill Judd's son (Aaron Stanford). The real "Ronald Peller" survives the episode.
Community content is available under
CC-BY-SA
unless otherwise noted.