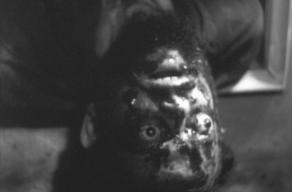 José Mojica Marins (1936 - 2020)
a.k.a. Zé do Caixão, a.k.a. Coffin Joe
Screenwriter/director
Film Deaths
Edit
At Midnight I'll Take Your Soul (A Meia-Noite Levarei Sua Alma) (1964) [Zé do Caixão (Coffin Joe)]: Dies under unclear circumstances (possibly a heart attack from fright, or due to his mutilation from clawing at his own face) when Eucaris Moraes' curse is fulfilled at the stroke of midnight; his body is shown afterwards when the villagers discover him in the tomb. (Although the 1967 sequel This Night I'll Possess Your Corpse revealed that he was still alive, it's clear that this was originally intended as a death scene.)
This Night I'll Possess Your Corpse (Esta Noite Encarnarei no Teu Cadaver) (1967) [Zé do Caixão (Coffin Joe)]: Drowned in the lake (as the skeletons of his former victims rise to the surface around him), after he falls into the water after being shot by the mob of villagers. (Jose would go on to play the character in several films, though their plots were unconnected to these first two movies; it was not until the 2008 sequel Embodiment of Evil that his return was explained. Again, this appears to have been originally intended as a genuine death scene.)
Embodiment of Evil (Encarnacao do Demonio) (2008) [Zé do Caixão (Coffin Joe)]: Stabbed in the chest with a crucifix by Milhelm Cortaz. Nara Sakare then finds his body and has sex with it, thus becoming pregnant and fulfilling Jose's goal of continuing his bloodline.
TV Deaths
Edit
None known.
Community content is available under
CC-BY-SA
unless otherwise noted.