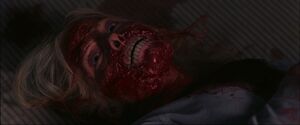 Jordan Ladd (1975 - )
Film Deaths
Edit
Cabin Fever (2002) [Karen]: Beaten to death with a shovel by Rider Strong, as a mercy killing after she contracts the flesh-eating virus and then gets partially eaten by a dog. (See also Gage Golightly in the 2016 remake.) (Thanks to Lisa France and Everkelt)
Madhouse (2004) [Sara]: Hacked to death with an axe (off-screen) by Joshua Leonard. The scene ends as he brings the axe down; her body is not shown afterwards. (The DVD includes an alternate ending in which Jordan survives.) (Thanks to Lauren)
Grindhouse (Death Proof) (2007) [Shanna/Judy]: As "Shanna", Jordan is thrown through the windshield when Kurt Russell deliberately rams Jordan's friends' car in a head-on collision. (Jordan also has a dual-role cameo as "Judy" in the Thanksgiving trailer segment; "Judy" survives the trailer.) (Thanks to Eric, Nick, and ND)
Hostel: Part II (2007) [Stephanie]: Although she appears to survive the actual movie, the US DVD includes a deleted scene in which she is slashed to death or decapitated with a power saw (off-screen) by Jeff Rendell; the scene cuts away from Jeff approaching her to a scene of a gardener cutting off a tree limb outside.
Satanic Panic (2019) [Kim Larson]: Choked to death along with all of the other cult members by Maya Perkins via black magic.
Noteworthy Connections
Edit
Daughter of Cheryl Ladd and David Ladd
Grandaughter of Alan Ladd Sr. and Sue Carol
Niece of Alana Ladd, Alan Ladd Jr., Leigh Taylor-Young and Lance Young
Step-daughter of Dey Young and Brian Russell
Step-sister of Lindsay Russell
Half-sister of Shane Ladd
Ex-Wife of Conor O'Neill
Community content is available under
CC-BY-SA
unless otherwise noted.