Wiki Targeted (Entertainment)
Play Sound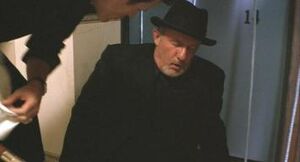 Jonathan Banks (1947 - )
Film Deaths
[
]
48 Hrs. (1982) [Algren]: Shot to death by James Remar after James forces Nick Nolte to give up his gun. (as Jonathan was already dying from being shot in the chest/side moments earlier by James). (Thanks to Michael)
Gremlins (1984) [Deputy Brent]: Possibly killed in a car crash, along with Scott Brady, after the gremlins disconnect the brakes on their patrol car. (Their fate is unclear in the film) (Thanks to Tommy)
Don't Touch My Daughter (Nightmare) (1991) [Ryter]: Killed by Victoria Principal in self-defense. (Thanks to Michael)
Dark Breed (1996) [Joseph Shay]: Killed in an explosion caused by Jack Scalia. (Thanks to ND)
Redbad (2018) [Pepijn]: Dies from an illness while surrounded by his family and friends.
TV Deaths
[
]
The Night They Took Miss Beautiful (1978; TV film) [Buck]: Killed in a plane crash when Gary Collins deliberately steers their plane into the ocean, just as the screen fades to red. (Thanks to Michael)
Diagnosis: Murder: Murder by Remote (2000) [Bruce Locatelli]: Killed by gas in his bedroom while he was sleeping and all windows and doors we're shot. This was done by the computersystem which controlled his house and which was his invention.  It is later revealed that he himself programmed his own murder but intended to be safed by his maid who was late at this particular morning because of a traffic jam. By doing so he wanted to draw suspicion in a series of similar murders on to a competitor in software buisness.
Day Break: What If They Find Him? (2006) [Conrad Detweiler]: Buried alive when his own men use a dump truck to pour a truckload of sand over him, after shooting him in the legs. (His death is undone when the time-loop cycle begins again.) (Thanks to Neil)
Day Break: What If It's Him? (2007) [Conrad Detweiler]: Commits suicide by shooting himself with a shotgun in his home. (In this final episode, the time-loop has been broken, so his death is now permanent.) (Thanks to Neil)
Breaking Bad: Say My Name (2012) [Mike Ehrmantraut]: Shot in the stomach by Bryan Cranston; he dies after crawling out of his car and sitting by a lake while talking to Cranston. His body is seen in the next episode Gliding Over All as Cranston and Jesse Plemons prepare to dissolve his body in an acid tub.
The Lizzie Borden Chronicles: Flowers (2015) [Mr. Flowers]: Shot in the chest by Christina Ricci.
Community: Basic Email Security (2015) [Buzz Hickey]: Dies (off screen) from unspecified circumstances before the episode begins. Although Jonathan left the show in the prior season, an email seen on Jim Rash's computer has the subject line "Buzz Hickey Memorial Services" indicated his fate.
The Expanse (2015) [Canterbury XO]: Dies (off screen) when the Canterbury is destroyed with all hands. 
Gallery
[
]