Jurassic World: Dominion Dominates Fandom Wikis - The Loop
Play Sound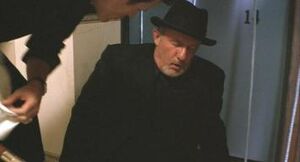 Jonathan Banks (1947 - )
Film Deaths
[
]
TV Deaths
[
]
The Night They Took Miss Beautiful (1977; TV film) [Buck]: Killed in a plane crash when Gary Collins deliberately steers their plane into the ocean, just as the screen fades to red. (Thanks to Michael)
Perry Mason: The Case of the Lost Love (1987) [Luke Dickson]: Hit on the head (off-screen) when he leaned against a dresser after getting hit with an urn by Jean Simmons in his motel room. His body is shown afterwards when Gene Barry discovers him.
Highlander: The Series: Under Color of Authority (1994) [Mako]: Decapitated with a sword by Stan Kirsch at the end of a fight.
Matlock: The P.I. (1994) [Jack Starling]: Accidentally shoots himself during a struggle with George Peppard.
Tales from the Crypt: The Assassin (1994) [William]: Stabbed in the eye with a high-heeled shoe pinning him to a wall by

Shelley Hack

. (Thanks to Tommy)
SeaQuest 2032: Resurrection (1995) [Maximillian Scully]: Shot in self-defense by Patricia Charbonneau.
Diagnosis Murder: Murder by Remote (2000) [Bruce Locatelli]: Killed by gas in his bedroom while he was sleeping and all windows and doors were shot. This was done by the security system which controlled his house and was his invention. It is later revealed that he himself planned his own murder but intended to be saved by his maid who was late this particular morning because of a traffic jam. By doing so, he wanted to draw suspicion in a series of similar murders on to a competitor in software business.
Alias: The Telling (2003) [NSA Deputy Director Brandon]: Shot to death in an ambush by Ron Rifkin's henchmen. (Thanks to PortsGuy)
Day Break: What If They Find Him? (2006) [Conrad Detweiler]: Buried alive when his own men use a dump truck to pour a truckload of sand over him, after shooting him in the legs. (His death is undone when the time-loop cycle begins again.) (Thanks to Neil)
Ghost Whisperer: Friendly Neighbourhood Ghost (2006) [Lyle Chase]: Plays a ghost who finally moves on at the end of an episode.
Day Break: What If It's Him? (2007) [Conrad Detweiler]: Commits suicide by shooting himself with a shotgun in his home. (In this final episode, the time-loop has been broken, so his death is now permanent.) (Thanks to Neil)
Breaking Bad: Say My Name (2012) [Mike Ehrmantraut]: Shot in the stomach by Bryan Cranston; he dies after crawling out of his car and sitting by a lake while talking to Cranston. His body is seen in the next episode Gliding Over All as Cranston and Jesse Plemons prepare to dissolve it in an acid tub.
Vegas: Bad Seeds (2012) [Angelo LaFlatta]: Shot by Michael Wiseman.
Body of Proof: Daddy Issues (2013) [Detective Glenn Fitz]: Shot by Lorraine Toussaint.
The Lizzie Borden Chronicles: Flowers (2015) [Mr. Flowers]: Shot in the chest by Christina Ricci.
Community: Basic Email Security (2015) [Buzz Hickey]: Dies (off-screen) from unspecified circumstances before the episode begins. Although Jonathan left the show in the prior season, an email seen on Jim Rash's computer has the subject line "Buzz Hickey Memorial Services" indicated his fate (although given the show's style of humor, it's just as likely that the character is alive and has a job as a funeral director).
The Expanse (2015) [Canterbury XO]: Dies (off-screen) when the Canterbury is destroyed with all hands. 
A Tale Dark & Grimm: Chapter the Seventh: Faithful Johannes (2021) [Johannes]: Dies from being mortally wounded by the Devil (Adam Lambert) in the previous episode, Chapter the Sixth Three: Golden Hairs, when the latter impaled him by throwing a stake towards his chest. He dies shortly after telling Hansel (Andre Robinson) and Gretel (Raini Rodriguez) the story behind why their parents tried to kill them.
Gallery
[
]