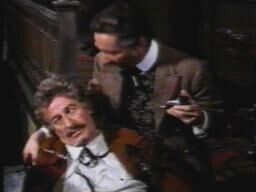 Jon Pertwee (1919 - 1996)
Carry On Cowboy (The Rumpo Kid) (1965) [Sheriff Albert Earp]: Shot in the chest during a gunfight with Sid James in a saloon; he dies in Kenneth Williams' arms shortly afterwards. (Played for comic effect.)
Carry On Screaming! (Carry On Vampire) (1966) [Dr. Fettle]: Killed (off-screen) by a monster that grows to full size in the police laboratory. We only see his legs sticking over the desk when Harry H. Corbett arrives at the wrecked lab. (Again, played for comic effect.)
The House That Dripped Blood (1971) [Paul Henderson]: Bitten on the throat (off-screen) by Ingrid Pitt after the cursed cape turns her into a vampire. The scene ends before the actual bite, but we later see him rise from his coffin as a vampire, only to die again when John Bennett stabs him in the chest with a broken chair leg.
Doctor Who: Planet of the Spiders (1974) [The Doctor]: Gets radiation poisoning during his battle against the giant spiders; his body "regenerates" and transforms into Tom Baker. (I wasn't sure whether to include this or not, since it's only arguably the "death" of Jon's incarnation of the character, and not the death of the character itself. However, I decided to go ahead and list it just in case.)
Virtual Murder: A Torch for Silverado (1992) [Luis Silverado]: Dies of cancer.
Son of Roland Pertwee (screenwriter).
Brother of Michael Pertwee (screenwriter).
Community content is available under
CC-BY-SA
unless otherwise noted.