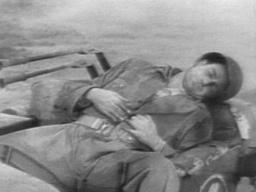 John Wayne (1907 - 1979)
"You cannot kill John Wayne" is a quote by some filmmakers of the cinema, but only a few of his many starring roles "broke" it.
Film Deaths
Edit
The Deceiver (1931) [Reginald Thorpe's Corpse]: Stabbed to death (off-screen) by Sidney Bracey. (This part was actually played by Ian Keith during the "living" scenes; John only served as a stand-in when the body is discovered.)
Central Airport (1933) [Co-Pilot in Wreck]: Killed when his plane crashes into the ocean.
Reap the Wild Wind (1942) [Captain Jack Stuart]: Killed by a giant squid while deep-sea diving through an old shipwreck.
The Fighting Seabees (Donovan's Army) (1944) [Wedge Donovan]: Shot in the chest by a Japanese soldier while driving his jeep towards an oil refinery tank. John succeeds in his intended mission when the jeep crashes into the tank and causes an explosion.
Wake of the Red Witch (1948) [Captain Ralls]: Drowns after being trapped underneath debris while attempting to recover sunken treasure.
Sands of Iwo Jima (1949) [Sgt. John M. Stryker]: Shot by a Japanese soldier while ascending Mount Suribachi.
The Sea Chase (1955) [Captain Karl Ehrlich]: Drowned (off-screen) with Lana Turner when their lifeboat is sunk. (Although his IMDB trivia states it's undetermined, he and Lana may have made it to shore).
The Alamo (1960) [Col. Davy Crockett]: Stabbed with a lance by a Mexican soldier and blown up in the Alamo's arsenal when he sets off a massive explosion. (it's known that in real-life, Crockett's body was found whole and did not blow up in a gunpowder explosion).
The Man Who Shot Liberty Valance (1962) [Tom Doniphon]: Dies (off-screen) of natural causes. His coffin (but not body) is shown when James Stewart arrives at the funeral home, and the rest of the movie takes place in flashbacks set years earlier.
The Cowboys (1972) [Wil Andersen]: Shot in the chest and stomach by Bruce Dern (after first shooting him in the arm, leg and shoulder); he dies shortly after the teenage cowboys carry him back to their camp.
The Shootist (1976) [John Bernard Books]: Mortally wounded (on top of terminal cancer) in the saloon gunfight; he dies moments later at the end of the shoot-out (by Richard Boone, Hugh O'Brian, and finally Charles G. Martin) with Ron Howard at his side after Charles shoots John in the back.
TV Deaths
Edit
Notable Connections
Edit