John Rhys-Davies (1944 - )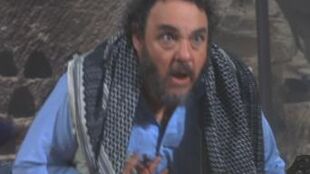 King Solomon's Mines (1985) [Dogati]: Incinerated, having first fully caught on fire (due to dropping a burning torch on his back) after Richard Chamberlain kicks him into a lava pit.
Predator: The Concert (1987) [The Mountain Man]: Impaled on a piece of torn apart stage at the end of a fight with the bear (The film was never officially released, but bootlegs do exist).
The Living Daylights (1987) [General Leonid Pushkin]: Shot by Timothy Dalton before Andreas Wisniewski had a chance to shoot him, it was later revealed that he was wearing a bulletproof vest.
Sunset Grill (1993) [Stockton]: Killed by Peter Weller (My memory is vague but I recall he died at the end).
The Unnamable II: The Statement of Randolph Carter (1993) [Professor Harley Warren]: Killed by Kit Fredericks (It's been awhile since I last saw this but I recall he died at the end of this)
Delta Force One: The Lost Patrol (1999) [Ivan]: Shot in the chest by Galia Soudri.
Sabretooth (2002) [Anthony Bricklin]: Mauled to death by the sabretooth tiger in the woods. (Thanks to Dick Hertz)
Scorcher (2002) [Dr. Matthew Salin]: Stabbed in the chest by Mark Rolston while John tries to telephone G.W. Bailey (he dies whilst warning his daughter, Tamara Davies and Mark Dacascos). (Thanks to Stephen)
Endangered Species (2003) [Lt. Wyznowski]: Killed when he fires an alien gun only to be hit by its projectiles (I haven't seen this but I read that he dies).
Chupacabra Terror (2005) [Captain Randolph]: Killed by the Chupacabra (It's been awhile since I last saw this but I recall he died at the end of this).
The Ferryman (2007) [The Greek]: Killed by Amber Sainsbury, with his spirit then going on to posses someone else before being tricked into be sent to hell by one of the ferrymen (Ben Fransham), with his body is then used to temporary house Julian Arahanga's soul before he can go on to possess someone else (My memory is vague but I recall he's not among the survivors).
Time Lapse (2014) [Mr. Bezzerides]: Killed off-screen by a corrosive gas leak in his basement. His body is shown when Matt O'Leary,George Finn and Danielle Panabaker find him along with the machine that he had created that could take pictures 24 hours into the future.
Ivanhoe (1982) [Reginald Front-de-Boeuf]: Stabbed to death in a sword fight with Julian Glover, causing him to fall off the battlements of a castle. He is later seen slowly dying as Sam Neill and Stuart Wilson look on.
Sliders: Double Cross (1996) [Professor Maximilian Arturo]: Murdered by Zoe McLellan by being pushed into an incinerating portal. The events happen before the events of the episode, but a recording of the murder is shown. (Note: The Maximilian Arturo that died in this scene was a double found on a parallel universe, not the original Arturo seen in the series).
Anacondas: Trail of Blood (2009; TV Movie) [Murdoch]: Decapitated when the snake rips his head off.
Krod Mandoon and the Flamming Sword of Fire; Thrilla in the Villa (2009) [Grimshank]: Stabbed with a sword by James Murray; he dies while talking to Sean Maguire.
Ferocious Planet (2011; TV Movie) [Senator Jackson Crenshaw]: Bisected to the waist by an alien creature.
Community content is available under
CC-BY-SA
unless otherwise noted.