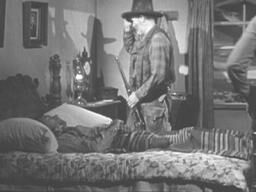 John Ireland (1914 - 1992)
I Shot Jesse James (1949) [Bob Ford]: Shot with a shotgun in a showdown with Preston Foster. He dies after confessing his sorrow for killing Reed Hadley. (in reality Bob Ford died instantly after being shot, as the blast went to his throat and nearly decapitated him).
The Return of Jesse James (1950) [Johnny Callum]: Shot in the stomach by Henry Hull, after John shoots him. He later dies of his wound after also killing Ann Dvorak.
Red Mountain (1951) [Quantrill]: Shot in the chest in a shoot-out with Alan Ladd, just as John tries to kill him.
Vengeance Valley (1951) [Hub Fasken]: Shot in the back by members of a posse as John tries to ride away. Shown from a distance.
The Good Die Young (1954) [Eddie]: Electrocuted when Laurence Harvey pushes him onto the third rail. (Thanks to Brian)
Queen Bee (1955) [Judson Prentiss]: Commits suicide by deliberately driving his car into a ravine in order to kill both himself and Joan Crawford. (Thanks to Duncan)
Gunfight at the O.K. Corral (1957) [Johnny Ringo]: Shot to death by Kirk Douglas in the titular gunfight. (IRL, Ringo was not involved in the O.K. Corral gunfight. He was found dead of a gunshot wound to the head more than eight months later, and the official verdict was suicide.)
Party Girl (1958) [Lucky Louie Canetto]: He is trying to get the top off a bottle of acid (to throw at Robert Taylor), in a building already besieged by the cops and as he pauses in front of a window he is machine gunned. (Thanks to Brian)
Spartacus (1960) [Crixus]: He has a gladius stuck through him in the final battle between the slave army and the Romans. (Thanks to Brian)
Faces In The Dark (1960) [Max Hammond]: Dies (off-screen) of a violent coughing fit which leads to a heart attack. We find out when Mai Zetterling tells his brother John Gregson. (Thanks to Brian)
Hate for Hate (Odio per odio) (1967) [James Cooper] Dies from a combination of malaria and a gunshot wound inflicted by Mirko Ellis.
The House of Seven Corpses (1974) [Eric Hartman]: Crushed to death when a zombie drops a treasure chest on him. (Thanks to Michael)
Satan's Cheerleaders (1977) [The Sheriff]: Stabbed in the stomach with a fence post by Jack Kruschen.
Terror Night (1987) [Lance Hayward]: Plays a ghost who returns to kill the intruders on his estate. (Thanks to PortsGuy)
Gunsmoke: Stage Stop (1966) [Jed Coombs]: Shot to death by Milburn Stone, after John ignores Milburn's warning to stop attacking John's wife (Anne Whitfield), after Anne catches him smothering one of his gang members. (Thanks to Brian)
Gunsmoke: Vengeance Part 2 (1967) [Parker]: Shot in the back by James Anderson, who then steals his money, he staggers out of the saloon and confronts James Stacy who kills him as they exchange shots. (Thanks to Brian)
Hawaii Five-O: A Shallow Grave (1979) [Phil Coleman]:
Community content is available under
CC-BY-SA
unless otherwise noted.