Wiki Targeted (Entertainment)
Play Sound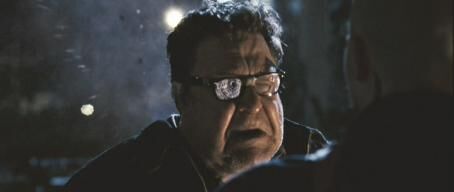 John Goodman (1952 - )
C.H.U.D. (1984) [Cop in Diner]: Slashed to death along with Jay Thomas by one of the cannibalistic humanoid underground dwellers during their attack on a diner. (Thanks to ND)
The Big Easy (1987) [Detective Andre DeSoto]: Shot in the chest and stomach by a dying Ned Beatty (causing John to become entangled in fishing nets) as John tries to shoot Ellen Barkin (with his body later seen as the boat catches fire and explodes). (Thanks to ND and Nilescu)
Everybody's All-American (1988) [Ed Lawrence]: Shot in the doorway of his restaurant by the mafia after failing to pay back gambling debts.
The Babe (1992) [George Herman 'Babe' Ruth]: Dies (off-screen) of throat cancer, several years after the story ends; his death is mentioned in the on-screen text at the end of the movie. (Thanks to Andrew)
Fallen (1998) [Detective Jonesy]: Shot in the head (after being shot in the stomach) by Denzel Washington after the evil spirit possesses John. (Thanks to Wayne, ND, and Nilescu)
Argo (2012) [John Chambers]: Dies (off-screen) years after the film's events; his death is mentioned in text at the end of the film.
ParaNorman (2012; animated) [Mr. Prenderghast]: Dies of a stroke; his ghost then appears to his nephew Norman (voiced by Kodi Smit-McPhee). His body is later seen when Norman removes a book from his hands. (Played for comic effect.)
10 Cloverfield Lane (2016) [Howard Stambler]: Either burns to death (off-screen) when Mary Elizabeth Winstead accidentally sets fire to the bunker he is in, or is killed in the explosion that occurs when the fire reaches the explosive materials housed in the bunker.
Captive State (2019) [Mulligan] Blows himself up with a bomb in order to kill the aliens as the film ends. 
Kingfish: A Story of Huey P. Long (1995 TV) [Huey P. Long Jr.]: Mortally wounded in the abdomen by Matt Craven. He dies later in the hospital. (Thanks to Stephen)
Roseanne: Into that Good Night Part 2 (1997) [Dan Conner]: Dies (off-screen) of a heart attack; in this episode, Roseanne Barr reveals that the show was actually a book based on her life and that the heart attack Dan had in the previous season's episode The Wedding was actually fatal. (The 2018 revival retconned this episode as non-canon, thus John's character is still alive; This entry is included since the episode was canon at the time of airing.)
Now and Again: Origins (1999) [Michael Wiseman]: Hit by a train after falling off the platform; his brain is then transplanted into Eric Close's body, so he "lived on" in Eric's body for the rest of the series. (Thanks to ND)
Community content is available under
CC-BY-SA
unless otherwise noted.