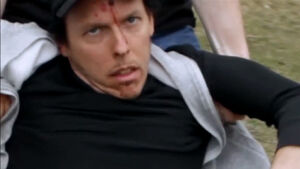 Johannes Grenzfurthner (1975 - )

Austrian filmmaker, actor and artist.
Film Deaths
Edit
Traceroute (2016): At the end of nerd documentary Traceroute, host Johannes Grenzfurthner gets killed during an interview with Steve Tolin, a Pittsburgh-based special effects artist. Tolin gets very upset because Grenzfurthner makes fun of Tolin's design work for a creationist theme park, so he shoots him in the head. Tolin then buries Grenzfurthner in his backyard. This staged scene concludes the documentary.
 
Glossary of Broken Dreams (2018): At the end of the political essay documentary Glossary of Broken Dreams, host Johannes Grenzfurthner gets eaten by a giant Cthulhu-like monster (referred to as the Old One) for trying to embezzle 20 euros from the fictional film producer (portrayed by Gerald Votava).
TV Deaths
Edit
monochrom's ISS (2011-12): Space station ground control supervisor Bodo Holtzmann (Johannes Grenzfurthner) is shot by his corrupt colleague Mordechai Finkelstein (Roland Gratzer).
Community content is available under
CC-BY-SA
unless otherwise noted.