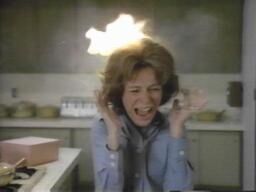 Joanna Miles (1940 - )
Bug (1975) [Carrie Parmiter]: Burned to death after one of the flame-producing insects sets her hair on fire in her kitchen. (Thanks to Johan)
The Orphan (Friday the 13th The Orphan) (1979) [David's Mother]: I haven't seen this movie myself, but considering that she plays the mother of the titular "orphan", it seems a safe assumption that she dies.
Blackout (The Attic) (1988) [Eleanor Carpenter]: Dies in the hospital after being beaten by Michael Keys Hall. (Thanks to Johan)
Rosencrantz and Guildenstern are Dead (1990) [Gertrude]: Poisoned when she drinks from a goblet intended for Iain Glen; we only see a shot of her dropping the goblet, in a montage of all the deaths from Hamlet.
Judge Dredd (1995) [Judge McGruder]: Machine-gunned (along with the rest of the high council) when Armand Assante enters the chamber and starts firing. We don't actually see Joanna during the massacre, but it's established that Jurgen Prochnow was the only survivor.
Community content is available under
CC-BY-SA
unless otherwise noted.