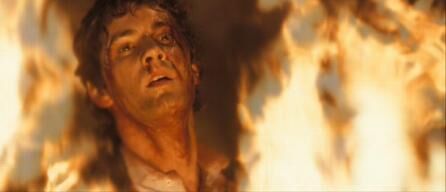 Jim Sturgess (1978 - )
Heartless (2009) [Jamie Morgan]: Burned to death when a gang member throws a Molotov cocktail at him. As he burns, the movie cuts to a flashback to his childhood that transitions to the adult Jim being reunited with his dead father (Timothy Spall); it's ambiguous whether this is a dying hallucination or an actual afterlife experience.
Fifty Dead Men Walking (2008) [Martin McGartland]: Is clinically dead when his heart stops after being shot repeatedly by an assassin sent by the IRA while trying to flee for Canada (he is later revived by paramedics).
Cloud Atlas (2012) [Adam Ewing/Poor Hotel Guest/Megan's Dad/Highlander/Hae-Joo Chang/Adam]: Playing multiple roles in the various segments of the film, "Hae-Joo Chang" is killed in the final battle with the corpocracy's soldiers while trying to defend Doona Bae. "Adam" is sliced across the neck with a machete by Hugh Grant while Tom Hanks looks on in horror. Sturgess' other roles survive their stories, though it's likely that they die of old age/natural causes over the course of the decades between each plot (Sturgess is in heavy make-up for several of the roles).
Kidnapping Mr. Heineken (Kidnapping Freddy Heineken) (2015) [Cor Van Hoult]: Killed (off-screen) many years after the events of the film by an assassin; his death is mentioned in the closing text. (In real life, the hit was ordered by co-kidnapper Willem Holleeder (played in the film by Sam Worthington), but the closing text does not mention this.)
Community content is available under
CC-BY-SA
unless otherwise noted.