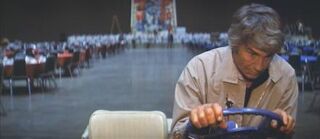 Jim Davis (1909 - 1981)
Not to be confused with Garfield creator Jim Davis
Film Deaths
The Cariboo Trail (1950) [Miller]: Gets beaten in a fight by Randolph Scott, then grabs a logging axe, twirls it to throw, so Scott shoots him. (Thanks to Brian)
The Restless Breed (1957) [Ed Newton]: Gunned down in the final showdown in the saloon by Scott Brady. (Thanks to Brian)
Five Bloody Graves (1970) [Clay Bates]: Stabbed in the chest by John "Bud" Cardos after John stakes him to the ground.
Rio Lobo (Sam Timoteo) (1970) [Rio Lobo Deputy]: Shot to death in a shoot-out with John Wayne. (Thanks to Michael)
The Parallax View (1974) [Senator John Hammond]: Shot in the back by a Parallax Corporation assassin while Jim is driving a cart through an assembly hall during a campaign-stop rehearsal.
TV Deaths
Gallery